Alaska Department of Fish and Game
---
Welcome to the Rabbit Creek Youth Rimfire League Website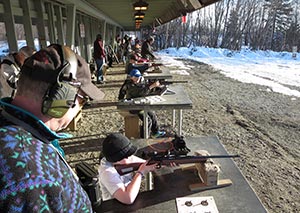 The Youth Rimfire League at Rabbit Creek Shooting Park's purpose is to provide new or inexperienced shooters a safe and supervised program to develop consistency and accuracy in rifle marksmanship. The focus is on individual improvement and discipline. The League will follow the Winchester/NRA Marksmanship Qualification Program, specifically the Rimfire Rifle Qualification.
Coaches, trained and certified by the NRA and the Dept. of Fish and Game, will coach the participants each week. Participants will compete on Tuesday night from 6:00–7:30pm.
Participants are expected to remain at the range for ten to twenty minutes after they finish shooting to clean-up targets and firearms. Each week the participants will be working towards completing a Course of Fire.
Rating
Number of Courses
Minimum Score Per Course/Possible Scout
Basic Practical
This rating is achieved by completing the practical exercise conducted during an NRA Basic Rifle Course
Pro-Marksman
2
100/200
Marksman
2
125/200
Marksman 1st Class
3
150/200
Sharpshooter
4
165/200
Expert
6
180/200
Distinguished Expert
191/200 or better 10 times or 191/200 4 times at Rimfire Rifle NRA Postal Match
The league sponsors provide .22 rifles, targets, and ammunition. League members may use their own .22 if approved by the team coaches. Basic eye and ear protection will also be provided and must be worn at all times when on the range.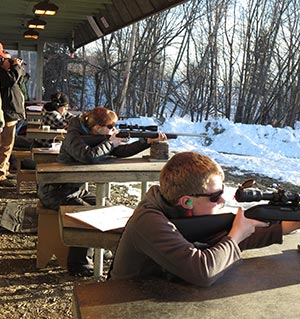 Rules of Behavior
League members represent the Alaska Department of Fish and Game, their families, and themselves. Therefore, each league member agrees to conduct himself or herself in accordance with a no-tolerance "no-horseplay" standard of behavior while involved in league activities.
Safe and enjoyable recreation is the ultimate objective. Therefore each league member agrees to a no-tolerance rule regarding safe firearm handling practices. If any league member violates any cardinal rule of firearm's safety they will be immediately removed from the squad rotation.
No league member or parent shall "coach" or advise any other league member on shooting. Coaches certified by the NRA and the Dept. of Fish and Game will provide all shooting instruction.
No league member shall make disparaging remarks about other league members' shooting ability or performance.
Each league member will support and encourage all other members of the league.
Each league member must dedicate themselves to each other and commit to shooting each week if at all possible.
We encourage family members to attend practice, however non-participants are not allowed on the shooting range during practice. A "warming hut" is provided for spectators and participants.
The 2016 Rimfire League is full. Please check back next January to register for the 2017 League. You can also check out additional youth opportunities with the Youth Shotgun League and Outdoor Youth Days.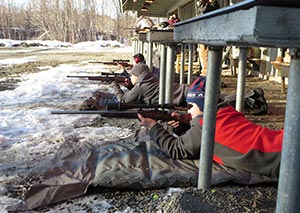 Important Information
All participants must have a Basic Hunter Education Certification Card. Visit www.huntereducation.alaska.gov for more information about getting your Basic Hunter Education Certification.
Shooters must be 10 years old by the start of League.
The cost for the 10-week League is $100. This includes ammo, targets, certificates, and range fees.
For questions, contact dfg.dwc.hitprogram@alaska.gov.
Facebook
Twitter
Google+
Reddit

Section Navigation
Education
Alaska Department of Fish and Game
P.O. Box 115526
1255 W. 8th Street
Juneau, AK 99811-5526
Office Locations