Alaska Department of Fish and Game
---
Requirements for the Muzzleloader Education Online Course Field Day
Online students must attend a field day associated with the online course. This course is only for students who have successfully completed the online muzzleloader education course. Students taking the muzzleloader education online course may not attend an Instructor-led course to complete their certification.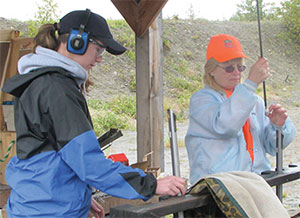 Click here to enroll in the Online Muzzleloader Education course
If you have successfully completed the Muzzleloader Education Online Course:
The field day associated with the Online Muzzleloader Education Course will be 3-4 hours depending on the amount of students attending, with a maximum class size of 12. The Field Day will be administered by certified volunteer instructors and will include a short discussion on "Muzzleloader Only" hunts and regulations in Alaska, safety review of powder use, range safety protocol, and a required shooting proficiency.
All applicants for muzzleloader education certification must successfully complete a standardized proficiency shoot. Each student must use their own muzzleloader firearm, projectiles and powder. Only blackpowder or approved blackpowder substitutes are allowed. Smokeless powder is NOT allowed. The proficiency shoot must be completed with a muzzleloading firearm that meets the current state requirements for big game "Muzzleloader Only" hunts. The minimum caliber is .45, and scopes are NOT permitted.
The student will use a Leupold 100-yard target during the practice setting. NOTE: Students cannot use their practice target to pass their proficiency shoot.
The proficiency shoot must be completed on targets provided by the certified volunteer instructor. Each student will choose their bullet and powder choice based on their prior shooting practice. The student will choose a shooting position (standing, kneeling, sitting, or prone) and cannot have the aid of any rest. The student must place four out of five shots within an 8" group at 50-yards, or 4" group at 25-yards. We are looking for a "group", not bullseye shooting.
If a student fails the proficiency shoot, they may, at the discretion of the instructor, re-shoot that day, but only after everyone else has shot. If the student fails the same day re-shoot, they must retake the entire online course and pay the course fee. Students will not be allowed to do a re-shoot any other day unless they are re-taking the entire course. If the student does not want to pay the fee for a second online course, they have the option of signing up (at no charge) for an Instructor-led muzzleloader education course.
Regardless of the shooting skills demonstrated, a disruptive or unsportsmanlike attitude by a student during any portion of the shooting proficiency may result in a failing grade being assigned by the instructor. If the student does not successfully complete all portions of the course, they must re-take the entire course.
Facebook
Twitter
Google+
Reddit

Section Navigation
Education
Alaska Department of Fish and Game
P.O. Box 115526
1255 W. 8th Street
Juneau, AK 99811-5526
Office Locations