North Slope Mine Site Studies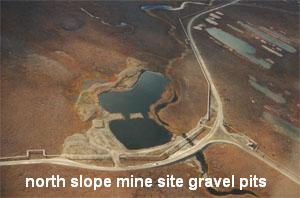 Research on flooded North Slope gravel extraction sites has been ongoing since 1986. The fish research program was initiated after it was discovered that fish were in an abandoned gravel mine flooded by a nearby creek. The gravel mine represented the only habitat within the creek system deep enough for fish to survive the winter. Our research on this and several other mine sites has led to significant understanding of how best to configure new and rehabilate old sites to maximize the potential benefit to Arctic fish populations that may be limited by the availability of adequate wintering habitat. Results to date have led to important information on how or whether sites should be connected to nearby streams and rivers based on their proximity to the coast and the potential for salt water intrusion that will make the site unsuitable for wintering fish.

Sites located near large rivers with natural wintering habitat tend to be used rapidly by fish, whereas mines connected to streams without wintering habitat tend to be utilized at a much lower rate. However, one of the oldest sites, and most isolated from rivers with wintering habitat, has been colonized by whitefish after nearly 20 years.
Radiotelemetry data suggest that some fish winter in the mine while others move to other river systems in the fall. However, fish have been observed returning to the site to feed during summer.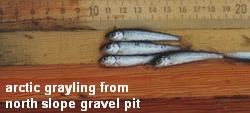 Experimental transplants of Arctic grayling have also been conducted at two mine sites. Over the past 20 years the two populations have varied widely, with one maintaining a large stable population of fish and the other maintaining a much more variable and lower population.
Data from the mine site projects have provided the Division of Habitat and industry data important for habitat mitigation and enhancement in the North Slope oil fields.
Published technical reports summarizing these data are available electronically. Visit our Technical Report Series page for a complete list of reports.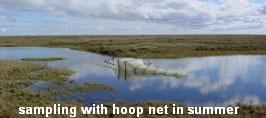 ---
* Adobe Acrobat PDF files require a free viewer available directly from Adobe. Need a hard copy of a publication? Contact Habitat Webmaster.