Special Area Management Planning
Willow Mountain Public Review Draft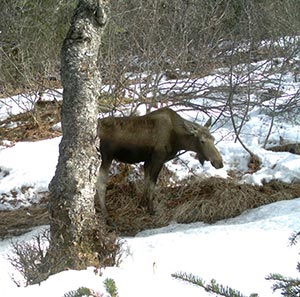 The public review draft of ADF&G's management plan for the Willow Mountain Critical Habitat Area is available for review and comments. This plan will provide guidance to ADF&G and DNR in permitting and managing land uses in the Willow Mountain CHA. This plan addresses habitat resources and management; it does not affect hunting and fishing regulations or harvest levels which fall under the authority of the Board of Fish and the Board of Game.
At the conclusion of the planning process, the "Goals" and "Policies" of the management plan will be adopted by reference into regulation. Comments submitted during this comment period will be considered during the development of the final plan.
The Willow Mountain CHA was established by the Legislature in 1989 (AS 16.20.620) to protect the exceptional moose habitat found in the area. Large concentrations of moose gather in the dense willow thickets of Willow Mountain, particularly during the early winter post-rut period, to take advantage of the high quality forage found there.
The comment period will be open from June 28 to August 27, 2021. Comments must be received or postmarked by 5:00 pm on August 27, 2021.
Comments can be submitted by:
Email to: dfg.hab.specialarea@alaska.gov
Mail to: ADF&G, Habitat Section
333 Raspberry Rd.
Anchorage, AK 99518
Through the State of Alaska Online Public Notice system:
https://aws.state.ak.us/OnlinePublicNotices/
Search "Willow Mountain" and click on "Leave a Comment"
Questions about the draft plan or for assistance in submitting comments about the plan can be directed to dfg.hab.specialarea@alaska.gov or Tammy Massie at 267-2122. Please leave a message and your call will be returned.
Hard copies of the plan are available at the Willow Library and at ADF&G offices in Palmer and Anchorage.