Instream Flow Program

Reservations of Water
Overview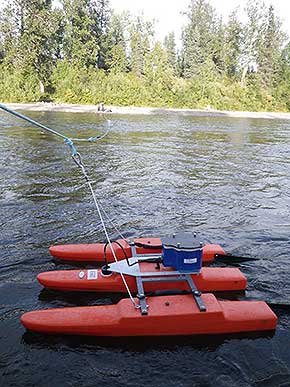 It's no secret that fish need water to survive, which is why biology is the basis of the instream flow reservations program. The program's mission is to ensure that aquatic-dependent species have sufficient amounts of good quality water to thrive in Alaska's rivers, lakes, estuaries, and wetlands. Alaska's water law (Alaska Statute: AS 46.15.145) allows ADF&G to acquire water rights for the purpose of sustaining fish and wildlife resources. This legal protection of instream flows is called a "Reservation of Water" and, to date, ADF&G has filed reservation applications on more than 300 rivers and multiple lakes.
Hydrologic Investigations
To determine how much water is needed to sustain aquatic resources within a watershed, a hydrologic investigation is conducted.
The first step in a hydrological investigation is to characterize the watershed. Geographic Information Systems (GIS), the Anadromous Waters Catalog, and local knowledge are examples of information used to determine the rivers, streams, and associated tributaries to be studied. A representative location within a river reach is selected as a data collection site based on accessibility, hydrological inputs, and additional logistics.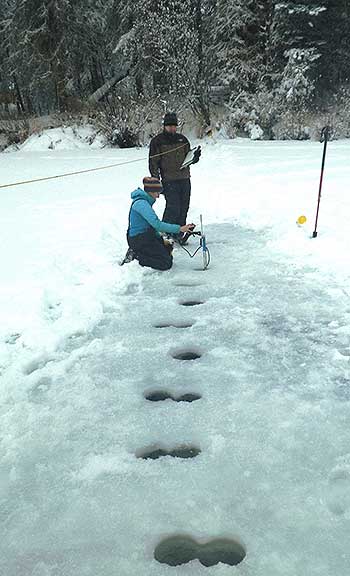 The next step is to quantify the streamflow, which is the quantity of water that occurs within a stream channel during a given time period. Instream flow data can be collected either by establishing a continuous stream gaging station or by repeatedly visiting a site to collect stream discharge measurements. It is important to quantify stream discharge throughout the year because water levels can fluctuate significantly between seasons. Periods of varying streamflow are necessary for aquatic ecosystems to function properly. For example, fish require differing amounts of water depending on their life stage, from higher flows that promote upriver migration during the summer to lesser flows needed for protection of eggs in the winter.
Once the hydrological data has been collected, scientists use the information to determine how much water should be requested for protection. A Reservation of Water application is then prepared and submitted to Alaska's Department of Natural Resources. After the application has been reviewed and adjudicated, a Certificate of Water is issued that legally ensures the aquatic resources in that river will continue to have sufficient water for their lifecycle requirements.
How Have We Done?
To date, more than 300 reservation applications have been filed through the Instream Flow Program resulting in the protection of more than 2,000 miles of rivers (and several lakes).
It should be noted, the Anadromous Waters Catalog lists over 19,000 streams, rivers or lakes around the state which have been specified as being important for the spawning, rearing or migration of anadromous fish.