Alaska Department of Fish and Game
---
Most ADF&G website information and services will not be available on Sunday, October 11 as the State of Alaska will be doing planned maintenance in Juneau on that date between 5 am – 9 pm AKST. We apologize for any inconvenience this may cause.
Facebook
Twitter
Google+
Reddit

Mountain Goat (Oreamnos americanus)

Research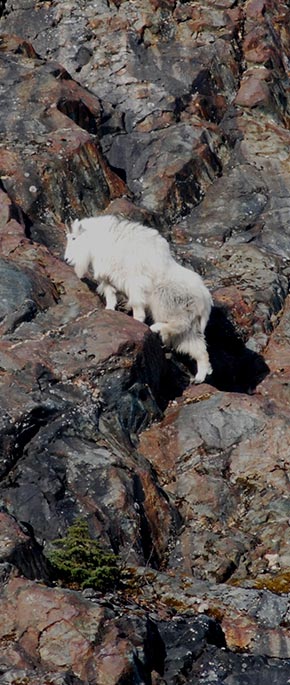 The Alaska Department of Fish and Game has been conducting research on mountain goats since the 1970s. Research projects serve an important role relative to conservation of the species in Alaska. It's not easy (nothing is easy with mountain goats!), but dedicated research efforts pay big dividends and provide critical field data used to identify critical habitat, estimate population size and composition, determine survival and reproductive rates, articulate population and landscape genetic patterns, assess disease status, characterize diet and nutritional condition and develop new tools for understanding the species biology.
The web links below will enable you to explore the various dimensions of the Alaska Department of Fish and Game mountain goat research program.
Mountain Goat Research Section
Contents
Management & Research Reports
Secondary Site Navigation
Species
Alaska Department of Fish and Game
P.O. Box 115526
1255 W. 8th Street
Juneau, AK 99811-5526
Office Locations