Hatcheries and Stocking

Hatcheries
Fort Richardson State Fish Hatchery
Hatchery Background:
The Fort Richardson State Fish Hatchery is located on Fort Richardson, a U.S. Army post near Anchorage, Alaska. The hatchery sits on the banks of Ship Creek, just downstream of the Glenn Highway. The facility was built in 1958 by the U.S. Army to provide fish for post lakes.
The Department of Fish and Game became involved with this hatchery in the early 1960s, and assumed full operation by the late 1960s. In 1981, a state bond was approved to rebuild and expand the hatchery, and construction ended in 1984.
As a public facility, the hatchery is open to visitors Monday through Friday, 9:00 a.m to 4:00 p.m. Please call in advance (428-1348) if more than 4 people.
Fish Production:
The facility currently produces Arctic Char, Arctic Grayling, rainbow trout, Chinook (King) Salmon, and Coho (Silver) Salmon. Annual stocking goals call for production of over 300,000 catchable-size rainbow trout, 1.5 million rainbow trout fingerlings, over 2.5 million coho and king salmon (combined), 50,000 Arctic grayling, and 65,000 Arctic char. This represents more than 100,000 pounds of fish. All fish grown at Fort Richardson are released offsite, from Fairbanks to Kodiak. Currently, over 100 lakes and 11 streams are stocked. In addition to producing fry, fingerling, smolt and catchable fish; 4,000 mature (3-year-old) rainbow trout, weighing up to 6 pounds and 500 char weighing up to 12 pounds, are held as broodstock to produce 2 to 3 million eggs annually. Another 8,000 immature (1- and 2-year-old) rainbow trout and char are held as replacement broodstock.
Rainbow trout eggs are taken in April, fingerlings are stocked in July and August, and catchable fish are stocked the following May through July. Broodstock require three years of rearing before being spawned. King salmon eggs are taken in July, and smolts are released the following June. Coho eggs are taken in September and October, with smolts released 18 or 19 months later. Arctic Char spawn in November and rear for up to one year before being stocked.
Stocking:
When the fish are large enough for release, tank trucks equipped with oxygen are driven up to the raceways, and a fish pump, like a large vacuum cleaner, pumps the fish from the raceways into the tanks. Fort Richardson Hatchery currently stocks fish from Fairbanks to Tok to Valdez to Kodiak, and many points in between. Each week during the summer stocking season our Fish Stocking Updates page is loaded with the most recent stocking information. Fish are also transported to many locations throughout the state by barge, airplane and helicopter.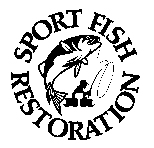 Funding:
This hatchery is 100% funded through user fees: 75% comes from the Federal Aid to Sport Fish Restoration, Dingell-Johnson / Wallop-Breaux program. This program provides funds from federal excise taxes collected on sport fishing tackle, recreational boats and gasoline used in recreational boats. The other 25% is from state sport fishing license sales.