Alaska Department of Fish and Game
---
Most ADF&G website information and services will not be available on Sunday, October 11 as the State of Alaska will be doing planned maintenance in Juneau on that date between 5 am – 9 pm AKST. We apologize for any inconvenience this may cause.
Facebook
Twitter
Google+
Reddit

Alaska's Wild Salmon

e-Library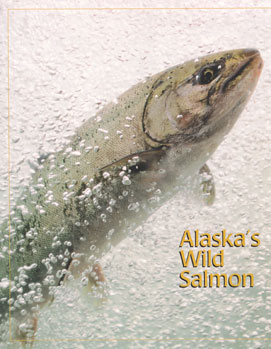 "Alaska's Wild Salmon" is a useful reference for anyone interested in or seeking information on the many aspects of Alaska's abundant and sustainable wild salmon resource. The sixty three page educational pictorial guide was created by the Alaska Department of Fish and Game for distribution to middle and high school students, the media, policy makers, government and non-government agencies and organizations, stakeholders in the salmon industry, and the general public.
"Alaska's Wild Salmon" illustrates the importance of salmon to Alaska's culture, economy, and ecosystems. The publication features biological details including: salmon evolution, lifecycles, species descriptions, the salmon food web, and salmon habitats and ecosystems. The four categories of salmon harvesters are presented, giving historical perspectives and current information, in addition to illustrating harvest methods and gear types. It highlights Alaska's laws, policies, and programs designed to protect and restore salmon and salmon habitats. In addition, Alaska's acclaimed salmon science based management programs, research, and sustainable salmon policies are featured along with presenting many agencies and organizations that support and further salmon programs in Alaska.
To place an order for Alaska's Wild Salmon, or the Alaska Sustainable Salmon Policy Poster, please contact:
Peggy Chaplin
Alaska Department of Fish and Game
PO Box 115526
Juneau, Alaska 99811-5526
Phone: (907) 465-6140
Email: peggy.chaplin@alaska.gov
Secondary Site Navigation
e-Library
Alaska Department of Fish and Game
P.O. Box 115526
1255 W. 8th Street
Juneau, AK 99811-5526
Office Locations