Petersburg-Wrangell Management Area

Fishing Information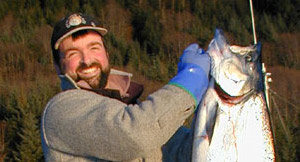 All five species of Pacific salmon resident to waters of the northwest United States and Canada are seasonally plentiful in the Petersburg/Wrangell area waters. This includes king (chinook), coho (silver), pink (humpy), sockeye (red), and chum (dog) salmon. Although most of the salmon caught in the area come from mixed wild stocks, some strong hatchery runs supplement the area's fishing in and around Petersburg and Wrangell.Road accessible shoreline king salmon fishing is popular at Blind Slough, on Mitkof Island, with a sizeable hatchery run returning to Crystal Lake Hatchery. This return of King salmon also provides very good action for boating anglers fishing in the Wrangell Narrows at the mouth of Blind Slough. In many years the fishery in this Terminal Harvest Area allows for expanded bag limits to harvest the plentiful kings that do not count toward non-resident annual limits for king salmon. Closer to Wrangell, the high quality sport fisheries for wild king and coho salmon are further supplemented by additional hatchery runs of king, summer coho, chum, and sockeye. Greater detail on area fishing for salmon and other sport fish is available through the Petersburg/Wrangell Sport fishing guide as well as the Petersburg/Wrangell Sport Fishing Report.
Other fish species in salt water include Pacific halibut, lingcod, Pacific cod, greenling, herring, Dolly Varden charr and several common species of rockfish. Most angling for these species locally targets halibut and some rockfish.
Fishing for herring and Dolly Varden charr at the boat harbors and adjacent waters can provide good action for visitors and kids alike.
Although many folks fish in salt water, there is good fresh water fishing for those interested in wild populations of Steelhead, Dolly Varden, and cutthroat trout. The fishing in fresh waters can take place in the lakes and streams on both the mainland and the numerous islands, from sea level to higher alpine lakes, where past lake stockings have introduced rainbow trout, Brook trout, and even Arctic grayling. Steelhead trout return in relatively small numbers to many of the area's streams and rivers spread over the entire Petersburg/Wrangell Management Area. It's thought that most populations annually host fewer than 200 spawning steelhead, and as such, the Sport fisheries are conservatively managed to minimize harvest using a 36" minimum size and bait restrictions, which together greatly limits the removal of spawning Steelhead.
For those willing to forgo the fishing rod, shellfish such as Dungeness, Tanner, and king crab, shrimp, scallops, abalone, and clams are present in area marine waters.