Alaska Department of Fish and Game
---
Secondary Site Navigation
Outdoor Camps and Skills Clinics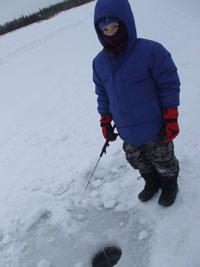 From our largest urban cities to our smallest traditional village, Alaska has unparalleled opportunities to use and enjoy abundant fish and wildlife resources. Outdoor activities such as hunting, fishing and viewing are all vital parts of our heritage and provide people with many outdoor recreation experiences each year and generate billions of dollars for Alaska's economy. We know that getting outdoors helps people lead happier and healthier lives, both through increased physical activity and the consumption of healthy wild foods.
Being a confident, competent, and ethical outdoors person requires knowledge and skills. Not everyone learned these skills as a youth, and even seasoned outdoors people have plenty to learn. Nature and outdoor skills offer a lifetime of study that can be enjoyed individually or as a family. Whether you want to learn about fishing, hunting, the habitats and landscapes of Alaska, archery, or outdoor survival skills, we offer something for everyone.
Our camps and skills clinics teach people how to safely and responsibly fish, hunt, trap and participate in other outdoor-related activities. They are also designed to promote an understanding of Alaska's fish and wildlife conservation and management principles. There are opportunities available for people of all ages and abilities. We encourage you to join us in discovering more about Alaska's outdoor heritage and activities.
Take a look through our pages and see if there is anything that interests you. We offer camps and clinics for youth, women, and for the general public. Get outdoors and keep learning!
For Kids & Youth: ADF&G helps sponsor several summer learning opportunities around the state for youth. In Fairbanks: Alaska Conservation Camp (ages 11-16) and Camp Habitat (ages 4-11). In Anchorage: Youth Days (ages 10-14).
For Women: Learn about Becoming an Outdoors Women (BOW), Women in the Outdoors (WITO) and Women on Target (WOT).
For Everyone: Visit our events calendar for more information on a wide range of skills clinics, from beginner to advanced, open to the general public.