Alaska Department of Fish and Game
---
Facebook
Twitter
Google+
Reddit

Youth Programs
The Hunter Information & Training Program is heavily involved with partner conservation groups promoting youth programs around the state.
National Archery in the Schools Program (NASP)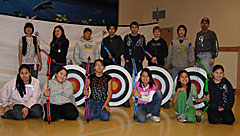 The National Archery in the Schools Program, (NASP) is a Nationwide Youth Archery program developed in Kentucky in 2002. Here in Alaska the program is a joint venture between NASP, the Department of Education and the Division of Wildlife Conservation. Several archery equipment manufacturers and local sportsman's organizations are also program partners. The program promotes self-confidence, team work, discipline, physical fitness and participation in the life-long sport of Archery. The program's focus is to provide International Style Target Archery in a physical education environment to all boys and girls grades 4 – 12. To date over 2,000,000 kids across America have participated in this great program.
For more information visit the NASP website or call Kirk Lingofelt @ (907) 267-2534.
Rabbit Creek Youth Shotgun League
Rabbit Creek Youth Shotgun League is built on the foundation of positive reinforcement and individual improvement. In the youth league there is absolutely no pressure to "win." We will assist each league member in setting realistic personal goals for improvement over the course of the league activities. We always need parents to get involved with coaching and provide training for parents who are interested in coaching their child's team. The clay target sports provide a lifetime of shooting opportunities. Success in the clay target sports emphasizes teamwork, endurance, fine motor skills, psychological focus and hand-eye coordination. Several clay target sports, including trap and skeet are Olympic events!
Rabbit Creek Youth Rimfire League
The Youth Rimfire League at Rabbit Creek Shooting Park's purpose is to provide new or inexperienced shooters a safe and supervised program to develop consistency and accuracy in rifle marksmanship. The focus is on individual improvement and discipline. The League will follow the Winchester/NRA Marksmanship Qualification Program, specifically the Rimfire Rifle Qualification.
Youth Conservation Camps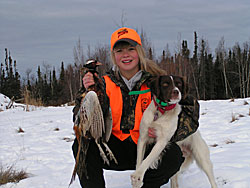 Youth Conservation Camps promote hands-on learning of hunting, fishing, shooting, conservation, and related outdoor skills. A variety of programs are offered in different parts of Alaska.
In Southcentral Alaska, Outdoor Youth Days (OYD) is hosted at Rabbit Creek Shooting Park in Anchorage and features firearms safety, archery, rifle, shotgunning, wildlife ID, fishing, orienteering, outdoor survival, among other skills. Rabbit Creek Youth Days are held during the month of June. There are plans in the works to expand this program into the Mat-Su Valley. For more information on Southcentral opportunities please call (907) 267-2187.
In Interior Alaska, Alaska Conservation Camp (ACC) is hosted at the Hunter Education Indoor Shooting Range in Fairbanks. Basic Camp activities include classes in Basic Hunter Education, firearms safety, shooting, wildlife identification, archery, spin fishing, map & compass, survival, basic camping skills, and one overnight campout. Basic Campers may earn Basic Hunter Education Certification from the State of Alaska Department of Fish & Game. Advanced Camp teaches skills in shotgun, muzzleloader, fly fishing and GPS, with two overnights.
Youth Camps are made possible by a cooperative effort between the Alaska Department of Fish & Game. (ADF&G), the Outdoor Heritage Foundation of Alaska (OHFA), the National Wild Turkey Federation (NWTF), the National Rifle Association of America (NRA), the Friends of the NRA, the Alaska Interior Marksmanship Committee (AIM-COMM), the Rocky Mountain Elk Foundation, and many community sponsors and volunteers.
Explore Bowhunting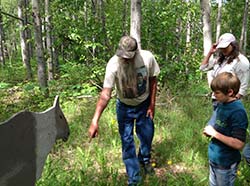 Explore Bowhunting is an educational program designed to help instructors, program leaders, and educators teach students, ages 11–17 the basic skills of bowhunting. It was created by the Archery Trade Association to spark interest in and passion for bowhunting in today's youth, recognizing that through hands-on experience, students will gain confidence interacting with the natural environment, and strengthen their appreciation for wildlife and the outdoors.
The Explore Bowhunting program can be used in:
Schools
Scouting
4-H
Summer Camps
The Explore Bowhunting program is more than a tool to teach bowhunting, it is an engaging, hands-on, activity-based program that examines animal behavior and emphasizes the use of senses. It introduces the challenge and thrill of being close enough to hunt, photograph, or simply view wildlife.
For more information contact Ginamaria Smith at (907) 267-2196.
Ketchikan Junior Shotgun League
The Ketchikan Junior Shotgun League meets every Sunday for team 5-Stand shooting practice. Currently there is a Fall and a Spring league session both of which run 8–12 weeks. Teams are comprised of five youth between 9–16 years of age. A Basic Hunter Education card is required within the first session of league participation. Membership dues are $25 and each youth shoots 50 rounds per week. The cost for 50 clay birds and shells is $20 each week. There are some league shotguns (20 and 12 gauges) available and we hope to purchase additional shotguns to have a variety available to participants. League shooters may also use their own shotguns, if approved by a certified coach. There is also a standby list for youth not officially on a team but interested in shooting. The standby list will be used to fill any future vacancies on a team. Teams shoot on Sundays, starting at 8:30am and the last team finishes at 3:30pm. Currently we have over 25 youth shooting shotguns at the Ketchikan Rod and Gun Club.
For more information contact Ketchikan ADF&G at 225-2475.
Other Youth Shotgun Leagues
These leagues offer trap, skeet, five-stand, or sporting clays shooting opportunities are being expanded each year throughout the state. Birchwood Shoot Park in Chugiak and Grouse Ridge Shooting Park in Wasilla both have active youth programs. A number of these young shooters have taken their shooting talents to the college level and even to the Olympics.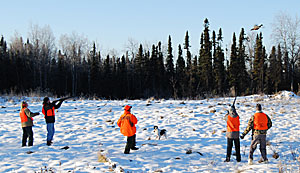 Youth Hunter Education Challenge (YHEC)
Recognized as the most comprehensive youth hunting program anywhere in North America, (YHEC) is NRA's "graduate studies" program in outdoor skills and safety training for young hunters. Open only to those who have completed hunter-safety training at the state-or provincial-level, the program is conducted under simulated hunting conditions to provide the best practical environment for reinforcing and testing a young hunter's skills.
Youth Small Game Hunts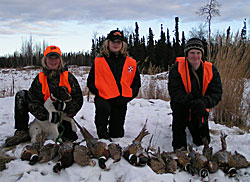 These hunts take our young shooters into the field to experience the actual hunt. Each participant must have completed a Basic Hunter Education Course to be eligible. Safety Coaches are provided for each young hunter, with the harvest of the day being field dressed and taken home by the young hunters. The most popular small game hunts involve pheasants, chukars, hares, ptarmigan and grouse. Watch the HIT Clinic Calendar for these events.
Secondary Site Navigation
Education
Alaska Department of Fish and Game
P.O. Box 115526
1255 W. 8th Street
Juneau, AK 99811-5526
Office Locations