Alaska Department of Fish and Game
---
Hunter Information and Training (HIT) Program
Beginning July 1, 2016, if you were born on or after January 1, 1986 you must have successfully completed a department approved bowhunter education certification course to hunt big game with archery equipment and the certification card must be carried in the field when hunting.
All hunters participating in archery-only hunts must obtain bowhunter education certification.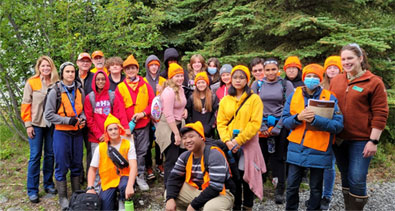 The Hunter Information & Training Program (HIT) is responsible for the administration of certification courses required to hunt in many parts of the state and other jurisdictions throughout North America. The HIT Program, with the assistance of over 400 volunteer instructors, offers quality training and education throughout Alaska. The certification courses offered include: Hunter Education, Bowhunter Education, and Muzzleloader Education. The HIT Program is also actively involved in outdoor programs designed to recruit and retain new hunters into the shooting sports and to preserve our hunter heritage.
Facebook
Twitter
Google+
Reddit

Section Navigation
Education
Alaska Department of Fish and Game
P.O. Box 115526
1255 W. 8th Street
Juneau, AK 99811-5526
Office Locations