Employee Spotlights
The Alaska Department of Fish and Game includes more than 1,700 employees in 47 offices throughout the state. Our staff works hard to sustain Alaska's resources. Like most Alaskans, we are passionate about our fish and wildlife. We are also proud to provide a public service. Below you can find examples of our outstanding staff from each of our divisions.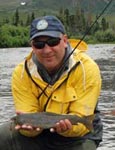 Ron Benkert
Habitat - Habitat Biologist
I grew up hunting and fishing around the Kenai peninsula and originally wanted to become an oyster farmer. That didn't pan out, but...
Employee Spotlights by Division