Alaska Fish & Wildlife News

August 2018
Is this Moose Legal?
Updated Video Helps Hunters ID Moose
By Riley Woodford
A brand new version of the popular video, "Is This Moose Legal" is now available. Originally produced by Fish and Game in the 1980s to familiarize hunters in Alaska with then-new antler restrictions, the updated 25-minute version features new footage and addresses current regulations. It is required viewing for some moose hunts in Alaska.
Moose management in many parts of Alaska includes restrictions on the spread or configuration of a bull's antlers. Knowing definitions for these terms and how to identify these antler distinctions in the field is a critical part of legally harvesting a moose in Alaska.
Exemplary footage was gleaned from more than 200 video clips of moose filmed in Southeast, Southcentral and Interior Alaska. Abby Lowell, an education and outreach specialist, directed and edited the video.
"The main goal was how to judge legal and illegal moose," Lowell said. "The anatomy of an antler, what are the bits and pieces called, using the terms we use in the regulations - what's a brow tine, where are the main beams; what to look for on a young bull, a spike or fork. On the larger bulls you have the chance to judge a 50-inch antler spread."
Lowell helped write the script and did a fair amount of the of camera work, including filming at the Kenai Moose Research Center. Erik Anderson, a Fairbanks-based education specialist with the sport fish division who has produced several popular fishing videos, also shot moose footage. Elizabeth Manning filmed a moose with antlers in velvet at the Alaska Zoo. Maria Gladziszewski contributed footage from a successful Southeast Alaska moose hunting trip. Kristen Romanoff and Mike Taras also provided video.
Although the intent of the video is to educate hunters, naturalists and wildlife watchers can learn a tremendous amount about moose from the video. In just six to eight months an adult bull moose can grow a pair of antlers spanning five or six feet and weighing as much as 70 pounds; antlers that are then shed in the winter after mating season.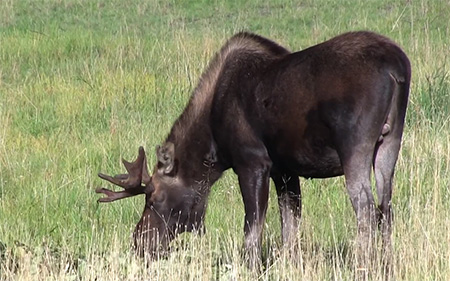 "The video looks at what happens to antlers throughout the year, their growth and annual cycle," Lowell said. "They are highly vascular and really sensitive when they're in velvet. Environmental factors like food, genetics, injury or damage, and the age of the bull all influence the development and configuration of the antler."
For those who plan to hunt moose in Kenai Peninsula Game Management Units 7 and 15, viewing the video is part of a mandatory Moose Hunter Orientation package.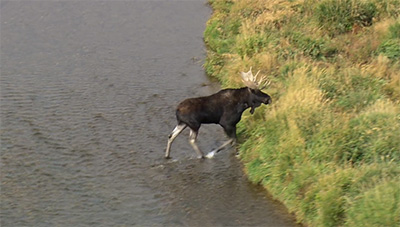 Watch "Is This Moose Legal?"
You can test your skills in judging legal moose by taking the online moose hunter orientation.
More on moose hunting in Alaska
For more information contact Education Specialist Sierra Doherty in Palmer at (907) 861-2104 or sierra.doherty@alaska.gov
---
Subscribe to be notified about new issues
Receive a monthly notice about new issues and articles.