Alaska Fish & Wildlife News

September 2014
Parasite Reminds Hunters
Bear Meat Must Be Thoroughly Cooked
By Riley Woodford
A party of successful out-of-state hunters left Alaska earlier this year with bear meat - and a load of parasites.
The incident is a good reminder that the trichinellosis roundworm is widespread in bears and meat needs to be thoroughly cooked, said Dr. Louisa Castrodale, an epidemiologist and veterinarian with the Alaska Department of Health. She said the group of friends became sick after they returned home.
"They all came up to hunt, from four different states, and after they got home they started emailing back and forth, 'Are you sick? I'm sick.' They figured it out," Castrodale said. "One person from Washington had some meat and had the Washington Health Department test it, and it was positive."
She said the hunters cooked hunks of meat over their campfire. "Like any meat, you want to get it up over a certain temperature and thoroughly cook the whole thing," she said. "Over a fire it's hard to say if it's evenly cooked."
According to the Centers for Disease Control and Prevention, wild game meat like bear should reach an internal temperature of 160 degrees and rest at that temperature for three minutes. Curing, salting, drying, smoking, or microwaving does not consistently kill the worms, and homemade jerky and sausage were the cause of many cases of trichinellosis reported to CDC in recent years.
That's true in Alaska. Dr. Kimberlee Beckmen, the veterinarian for the Alaska Department of Fish and Game, said curing methods that don't kill the parasites, such as drying or smoking, and inadequate cooking, like slow cooking in a crock pot, cause most of the cases she knows of in Alaska.
"People should always assume bear meat is infected," she said. "It must be cooked, 100 percent of the time. You can't see the larvae, they're microscopic."
Trichinellosis, also called trichinosis, is the disease caused by a nematode, a tiny worm with an adult and larval form. Trichinella is the genus, and spiralis is the species most adapted to domestic pigs. T. nativa is the species found in Alaska's bears. It's a much tougher bug. Freezing will kill spiralis, freezing doesn't kill the northern variety, nativa.
Beckmen cited a study where infected polar bear meat was frozen at minus 18 degrees centigrade for six years and the parasites were still viable; and another where fox meat frozen for four years was still laden with living larvae, ready to infect a new host. "It's arctic adapted to freezing," she said. "For Trichinella to spread, it has to be consumed by another carnivore. It can survive for a very long time in a carcass that is frozen. It wants to be consumed by another potential host later. It's biding its time."
Trichinella nativa is found in carnivores such as wolves, foxes, lynx and coyotes, and walrus and seals as well. So how do carnivores live with this parasite?
"It's a parasite that evolved along with the hosts, carnivores and scavengers, so bears and lynx are adapted to living with it," Beckmen said. "It affects us more severely because we're not typically exposed to it. Some animals may develop muscle edema and pain, and I'm sure some animals suffer more problems than others depending on the number of larvae they consume."
Parasites in general don't cause severe symptoms in the species they're evolved for, she said. Parasites and their hosts evolve together, and it rarely benefits the parasite to kill its host. "Wildlife having parasites is a normal state, and doesn't usually cause problems unless the animal is sick from some other reason or stressed."
But that's not the case when the parasite jumps to a different species. In part because the parasite can't complete its usual life cycle, it gets confused and ends up in the wrong part of the body, like the eyes instead of the gut.
"It's not meant to be in us, we react severely," Beckmen said. "Like the roundworm of dogs, which causes blindness and brain inflation in children. In people it may migrate throughout the body, it goes to the brain or the eyes, in a dog, it goes to intestine and lives there on the contents."
Trichinellosis rarely kills people, but it can cause severe pain, swelling and inflammation. Castrodale said initial symptoms result from the adult parasites in the intestinal tract and include diarrhea. She added that the initial symptoms can be mild and may not even really register. Over the course of the next few weeks the larvae migrate to muscles and establish themselves, which results in fever, muscle pain, weakness, and sometimes swelling around the skin of the eyes. "That's when people realize something is up, they're sick," she said.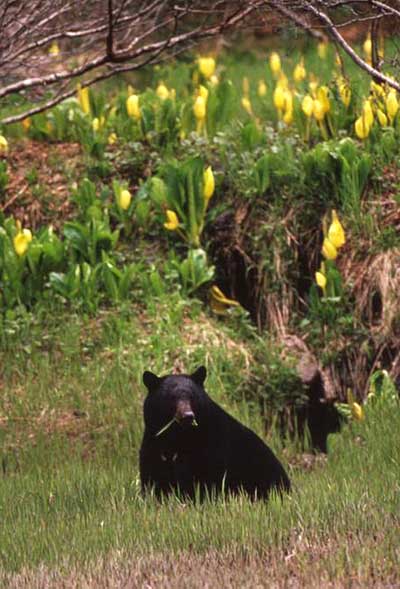 The CDC reports that trichinellosis is rare, and about 20 cases a year are reported. Rare, but Castrodale said this isn't the first time a situation like this has occurred. "People will call from out of state and describe their symptoms and we'll ask, 'Did you eat bear meat?' If you have those muscle pains and walk into clinic in Lower 48 they won't necessarily think to ask about it."
Prompt treatment with deworming drugs will kill the adults, but once larvae are established in muscle tissue, usually three or four weeks after infection, they're much less vulnerable to the drug. The CDC reports that the host immune response leads to expulsion of the adult worms after several weeks; the larvae, once in muscle, can persist for months or years, although symptoms typically wane after several months.
"Treatment might include a steroid to calm the immune response and address the inflammation," Castrodale said. "Eventually people get over it, it runs its course. You still have them, but they stop migrating, they're walled off and encysted."
How prevalent is this parasite in Alaska's wild carnivores?
Beckmen looked at tissue samples from bears and wolves killed in the state predator control program. She's also sampled bears killed in Defense of Life and Property (DLP) and sampled coyotes, lynx and walrus. She said the tongue and diaphragm will have most larvae. Lynx, coyotes, foxes and wolves have a very high rate of infection, but since people don't generally eat those animals that's not well known.
"The prevalence rate in black bears is higher the further north you go, and polar bears are 100 percent infected," she said.
She added that another parasitic disease, toxoplasmosis, is also prevalent in wild game in northern Alaska and she cautions people against eating raw meat from caribou or marine mammals.
Pregnant women should especially abstain, as toxoplasmosis can be damaging or fatal to a developing fetus. Small children are also at risk.
"It's better to cook the meat," she said.
More on wildlife diseases that hunters might encounter
A handy one-page color PDF on trichinosis and other common wildlife parasites
Riley Woodford is the editor of Alaska Fish and Wildlife News
---
Subscribe to be notified about new issues
Receive a monthly notice about new issues and articles.