Alaska Fish & Wildlife News

December 2013
Trapping Videos Offer Tips and Insights

By Riley Woodford
Fish and Game offers a variety of videos for trappers and about trapping. This article highlights videos for trappers, the companion article highlights videos about trapping for trail users, mushers, skijours and dog owners – "Sharing the Trails."
Trapping videos are available on the ADF&G trapping website.
The Alaska Guide to Fur Handling video has been one of the most popular Fish and Game streaming videos over the past couple months, for good reason. Trapping season is upon us, and it's an informative video. Hosted by Joe Mattie and Percy Duyck, experienced trappers offer lessons and tips on proper care of fur, the tools, tanning compounds, stretching and turning the hide, brushing the fur; also skinning and scraping; ends with nice assessment of hides and what makes quality work. 54-minutes. For folks with very limited bandwidth who have trouble viewing streaming video, a DVD of this video is available for free by contacting riley.woodford@alaska.gov, however quantities are limited.
Three other videos can also be viewed on the ADF&G trapping website.
Trapping Methods for Foxes, Coyotes and Wolves offers some basic natural history of canid furbearers, as well as trapping techniques. Includes information on trap and snare selection, preparing traps, tools, preparing sets, tips and emphasis on important points. It was produced in 1986 and narrated by Pete Buist, and runs about 24 minutes.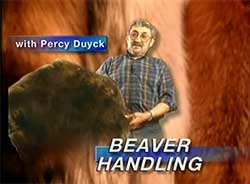 Alaska's Fur Heritage offers an overview of trapping in Alaska and Alaska's trapping history from the earliest pre-territorial days through statehood up to the 1990s. It highlights the role of trapping and its importance in rural Alaska, uses of fur and fur crafts, furbearer management, and the role of ADF&G in trapping. Produced in 1995. 22 minutes. Hosted by Jay Hammond.
Alaska's Village Trappers offers a look at the subsistence lifestyle in rural Alaska, and Yup'ik and Athabaskan peoples. Three short chapters on Alaska's Village Trappers - Celebrating Mink, Alaska's Trapping Interior, and Spring Muskrat Camp Produced in 1996 by the Alaska Department of Fish and Game Division of Subsistence. About 28 minutes total.
More information on trapping in Alaska can be found on the ADF&G trapping website.
---
Subscribe to be notified about new issues
Receive a monthly notice about new issues and articles.