Alaska Fish & Wildlife News

February 2013
Applications for McNeil River Bear Viewing
Permits Due On March 1
By Ken Marsh and Riley Woodford
The application deadline for lottery permits to visit Alaska's premier brown bear viewing site at McNeil River State Game Sanctuary is fast approaching. Online applications must be submitted by midnight on March 1, 2013, and mailed applications must be received by the Alaska Department of Fish and Game by close of business on March 1.
Anne Sutton, coordinator of the viewing program for the Alaska Department of Fish and Game, visited the area in the summer of 2011. "It's so remote and you are so close and intimate with brown bears that are just going about the business of feeding themselves," she said.
Located 100 air miles west of Homer, the McNeil River hosts the world's largest known gathering of brown bears; hundreds of people apply each year for permits to watch bears that are drawn to the river to feed on migrating salmon. The number of people allowed to visit at any given time is just 10 between June 7 and Aug. 25, insuring a quality experience.
"It's so different from other bear viewing experiences," Sutton said. "It's such a small group of people. You are with a couple of guides. They are armed, but they have never had to use their firearms and they are just great. They have so much information about the bears and they know the area so well."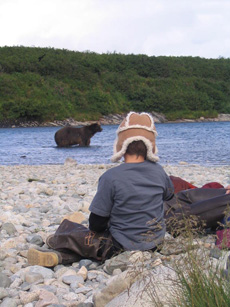 A wealth of information on McNeil is available at www.mcneilriver.adfg.alaska.gov . Online applications and printable application forms are available through the "Permits" tab and "Viewing Permits" link, or by calling (907) 267-2253.
A nonrefundable application fee of $25 per person is required. Applications are entered into a lottery and, if drawn, Alaska residents must pay a $150 permit fee and nonresidents $350.
For more information, contact Ed Weiss, ADF&G Refuge Manager, Phone: (907) 267-2189 ed.weiss@alaska.gov
---
Subscribe to be notified about new issues
Receive a monthly notice about new issues and articles.