Alaska Fish & Wildlife News

December 2012
Bringing the Outdoors Back into School

By Kristen Romanoff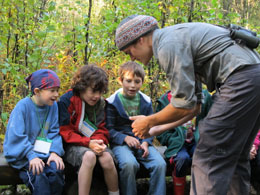 Remember your childhood? Chances are you have memories of exploring creeks, fields, tundra, forests or maybe a vacant lot near your school? In school, perhaps you had a chance to "do science" in an outdoor setting. You may even remember those experiences today, no matter how many years have passed since elementary school.
Perhaps you've seen a student inspired by a field trip. Teachers know that some students who may not perform well in the classroom setting can come alive on a field trip. Suddenly, these "bored" students are enthusiastic, interested and curious about the world around them.
Outdoor learning experiences are important for children. However over the past decade, education has moved away from outdoor learning that integrates multiple subjects and immerses students in their neighborhood or community. Even in Alaska, where intact ecosystems can be found in every community, outdoor learning experiences are not as common as you might imagine.
This may now be changing for the better, back to those enlightening experiences we remember as children, but with a modern focus. With education reform efforts underway, significant agreement is emerging among educators and experts about what to teach in schools. More and more educators are using the local environment as a foundation for community service projects and as a way to integrate subjects. Education standards and assessments that measure student performance are being revised. Now, in addition to ensuring students have the proper knowledge, educators are focusing on critical-thinking and problem solving skills, as well as the ability to integrate knowledge and apply learning to real world issues.
More and more, educators are turning to place-based environmental education to accomplish these goals. These lessons about the real world are meaningful to students and provide relevant contexts for learning. In short, it is learning that makes sense for today.
A dedicated group of diverse educators and natural resource professionals is working to ensure that Alaska's children have access to this kind of education. The Alaska Department of Fish & Game and the Department of Education & Early Development have led the effort to develop the Alaska Environmental Literacy Plan (AKELP). When approved by the State Board of Education it will serve as a framework to guide PreK-12 public schools in integrating environmental education, including active outdoor learning, as part of the school curriculum with support from community partners.
Implementation of the plan will ensure that all Alaska's students graduate from high school with personal connections to nature. They will understand the complex relationships between community, culture, economy, and the environment, and be prepared to manage and develop Alaska's rich natural resources wisely for today and future generations.
This kind of outdoor learning is also good for children right now. Research shows that when children are connected to nature, they do better in school, have fewer behavioral and health problems and are more engaged in learning.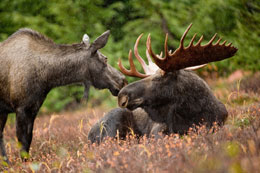 The implementation of AKELP will provide opportunities for schools and community partners to receive support to implement successful place-based learning, develop outdoor classrooms and provide important professional development for teachers, administrators and community members.
Student Moose Hunt
For example, consider what's currently happening at Andreafski School in St. Mary's, Alaska. In the fall, students go on a multi-day moose hunting trip with parents, teaching staff and local community members. Students collect data on local plants and animals, hunt, prepare meals for the field camp and learn about Yup'ik traditions. After the hunt, any animals that have been harvested are brought back to St. Mary's and the meat is distributed to community members. Teachers and students use the data collected during the moose hunt to create standards-based reading, writing, math and science lessons. As winter sets in, bounties from other fall activities such as berry picking, fishing and seal hunting are celebrated during a community celebration. Students present their projects to the entire community.
As the school year progresses, students continue to use data collected during the fall trips and apply this material in reading, writing, math, science and technology classes. "As much as possible, we are finding ways to involve students in learning experiences that are relevant to them and their culture that also support the State's Grade Level Expectations (GLE's)," says science/technology teacher Woody Woodgate. 'The program is a wonderful partnership between our school and the community and most importantly, our students are excited about learning."
River Rangers
Another successful program is happening at Teeland Middle School. For the eighth year, Wasilla seventh graders are participating in the "River Rangers" program. The school's 200 students conduct a five-day watershed investigation and implement a stream restoration project. This highly effective program provides science instruction, opportunities to conduct and share scientific research, and a chance to engage with the community in "hands-on" service-learning projects that help preserve local salmon streams. Initially students study stream ecology in the classroom. In late summer, they visit different stream sites to establish baseline data and monitor water quality and they return in the spring to gather additional data. Finally, one site is chosen to implement a streamside restoration project.
Teachers evaluate the program with a short test at both the beginning and end of the year. Fifty-nine percent of students showed a 40 percent or more increase in their scores, and 92 percent of students showed an increase in their score of 10 percent or more. Student scores on annual standards tests indicate significant growth. "Hands-on experiential learning is the ultimate tool to fuel the interests of our future scientists. Programs like River Rangers are unparalled in bringing this opportunity to Alaska's youth," says Mike Shea, a 7th grade teacher at Teeland Middle School.
Watershed School and STrEaM Academy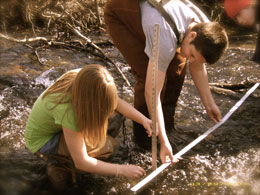 These types of place-based learning experiences are so effective that schools are shaping their entire curricula around it. The Watershed School in Fairbanks fosters the development of students with a strong sense of place so that they will be prepared to serve as stewards of their community. This model is catching on. A group of teachers and parents in Anchorage are in the process of creating a new charter school, the Anchorage STrEaM Academy. As a 6-8th grade learning environment, the Anchorage STrEaM Academy will empower students to be involved learners, critical thinkers, and engaged citizens inspired by the natural world through the focus of place-based, integrated, outdoor projects and labs built upon science, technology, engineering and math (STEM) educational models.
"When students realize that what they're learning has everyday relevance in the real world, the learning becomes memorable, and when it's memorable, the learning tends to stick," says Scott McKim. Scott is a technology teacher at Begich Middle School who is working with colleagues and parents to launch the STrEaM Academy is Anchorage.
The Alaska Environmental Literacy Plan will serve as a framework to help make more of these opportunities possible for our kids. The Plan will also ensure that our state is well-positioned to obtain funding from both private and public sources. Both the 'No Child Left Inside' proposed legislation as well as the President's blueprint for the reauthorization of Elementary & Secondary Education Act include incentives for states to prepare a State Environmental Literacy Plan.
Please add your voice to the Alaska Environmental Literacy Plan. You may submit comments to the Alaska Environmental Literacy Draft Plan. A survey is available to facilitate public comment.
In addition to commenting on the Plan, there are other ways to provide your support!
Write a letter of support for AKELP and encourage organizations, school districts and others you know to submit resolutions or letters supporting the Alaska Environmental Literacy Plan. You may email these to Kristen Romanoff at the Alaska Department of Fish & Game at kristen.romanoff@alaska.gov.
Visit and 'Like" the Alaska Environmental Literacy Plan Facebook page to view a sample letter or resolutionand to get updates on Plan activities. Share your success stories on the AKELP Facebook page.
Kristen Romanoff is the Wildlife Education Program Coordinator for the Division of Wildlife Conservation at ADF&G.
---
Subscribe to be notified about new issues
Receive a monthly notice about new issues and articles.