Alaska Department of Fish and Game
---
Facebook
Twitter
Google+
Reddit

Alaska Fish & Wildlife News

December 2003
Viewing Permits Available Now
For Brown Bear and Walrus
By Staff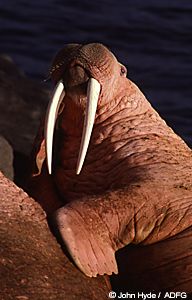 Already thinking about your next summer vacation? Now it's even easier to plan ahead and apply for permits to two of Alaska's top viewing destinations: McNeil River Bear Sanctuary and Walrus Islands State Game Sanctuary.
Interested wildlife viewers can obtain permit information on-line for both Alaska sanctuaries at www.wildlife.alaska.gov by looking under the heading "refuges and sanctuaries."
Permits to visit Round Island and view walruses are now available on-line and cost $50. Permits are issued after January 1, and space is available on a first-come, first-served basis.
"This is a great opportunity for Alaskans and visitors to apply early to visit one of our own premier wildlife viewing destinations," said Sarah Leonard, wildlife outreach specialist with the department.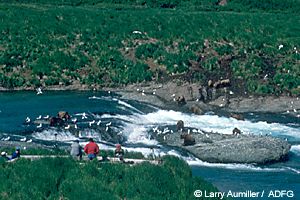 Permit applications to view brown bears at the McNeil River State Game Sanctuary are currently being accepted and must be submitted on-line or mailed by March 1. Mailed applications must reach Anchorage by March 15. There is a non-refundable application fee of $25 per person. Applicants are entered into a lottery and if drawn, residents pay a $150 viewing fee and non-residents pay $350.
For more information about Alaska wildlife viewing, please contact Joe Meehan at 907.267.2281 or joe.meehan@alaska.gov.
---
Subscribe to Fish and Wildlife News to receive a monthly notice about the new issue and the articles.
Section Navigation
December 2003
---
Select Issue
---
Magazine
Information
Editor:
Riley Woodford

1255 West 8th St.
Juneau, AK 99801
(907) 465-4256
Questions or comments:
Wildlife News Info

To subscribe contact:
AWN Subscriptions

To unsubscribe:
Unsubscribe

---
Alaska Department of Fish and Game
P.O. Box 115526
1255 W. 8th Street
Juneau, AK 99811-5526
Office Locations