Alaska Fish & Wildlife News

June 2008
Alaska Wildlife Notebook
Features Fascinating Animals
By Riley Woodford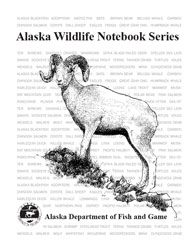 Alaska is home to singing seals, shrimp that change their sex, polygamous phalaropes and air-breathing fish. These odd creatures – as well as all the familiar Alaska animals – are included in the new Alaska Wildlife Notebook Series.
The Wildlife Notebook Series has long been one of the Alaska Department of Fish and Game's most popular publications. This winter, the book was updated, revised and reprinted, and the new edition features about 20 new species. The 300 page book includes about 150 birds, mammals, fish, amphibians and reptiles (yes, there are reptiles in Alaska – sea turtles). In general, each chapter in the book highlights a different species, although in some cases a group of animals such as shrimp, woodpeckers or sparrows are combined. Crisp black and white illustrations are featured for every animal.
Department biologists reviewed the existing chapters and updated the information with the latest findings. Marine mammal biologists added 15 new whales, porpoises, and dolphins. Five new falcons and hawks are also included in the new edition.
The Alaska Wildlife Notebook Series is available at a number of Alaska bookstores. Alaska Geographic, which manages bookstores at visitor centers in places such as Denali National Park and the Mendenhall Glacier, also carry the book. The Information Center at the Alaska Department of Fish and Game office in Anchorage carries the books, as does the Gulliver's Books and the farmhouse bookstore at Creamer's Field in Fairbanks. Books can be obtained by mail by contacting 465-4190. The retail price is $12.95, and wholesale prices are available for bookstores and retailers.
Copies have been provided to about 425 public, academic and school libraries throughout the state, and reference copies have been provided to all Fish and Game offices.

Riley Woodford is a writer with the division of wildlife conservation, and served as editor of the new Wildlife Notebook.
---
Subscribe to be notified about new issues
Receive a monthly notice about new issues and articles.