Alaska Department of Fish and Game
---
Most ADF&G website information and services will not be available on Sunday, October 11 as the State of Alaska will be doing planned maintenance in Juneau on that date between 5 am – 9 pm AKST. We apologize for any inconvenience this may cause.
Facebook
Twitter
Google+
Reddit

Alaska Fish & Wildlife News

May 2007
Tom & Kellys Black Bear Roast

By Staff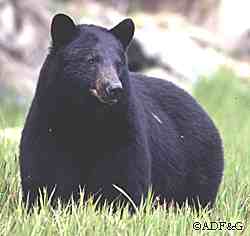 Tom & Kelly's Black Bear Roast Recipe
Start with clean, fat-trimmed-off, crock pot size roast

Ingredients:
Roast
2 cans beef broth
1can stewed tomatoes
1 medium size sweet onion
1 bay leaf
1/4 cup teriyaki sauce
black pepper to your liking
corn starch and Kitchen Bouquet for gravy

-Place roast in pot
-Pour in beef broth, add water to cover roast
-Dice onion, add remainder of ingredients
-Place Crock-Pot setting on low, cook all day

-Strain and drain juice thicken with corn starch and teaspoon of Kitchen Bouquet for Gravy. Pour strained ingredients back into gravy after making, or place in bowl to spoon over slice roast at serving.
This comes from Mike Nizich, a Juneau outdoorsman with a lot of experience with bears. Nizich is a taxidermist and bear hunter and has harvested and eaten spring black bears for years. This is one of his favorite bear recipes. "My Buddy Tom has used this one for years and passed it on to me," he said.
---
Subscribe to Fish and Wildlife News to receive a monthly notice about the new issue and the articles.
Secondary Site Navigation
May 2007
---
Select Issue
---
Magazine
Information
Editor:
Riley Woodford

1255 West 8th St.
Juneau, AK 99801
(907) 465-4256
Questions or comments:
Wildlife News Info

To subscribe contact:
AWN Subscriptions

To unsubscribe:
Unsubscribe

---
Alaska Department of Fish and Game
P.O. Box 115526
1255 W. 8th Street
Juneau, AK 99811-5526
Office Locations