Alaska Fish & Wildlife News

June 2006
Recipe: Lemon Caesar Halibut

By Butch Carber
Lemon Caesar Halibut
Serves 4 to 6 people
2 pounds halibut fillets
½ cup of your favorite Caesar salad dressing
Place halibut in greased, shallow baking dish. Coat fillets with dressing and let stand/marinate 30 minutes.
Lemon Butter Sauce
One egg yolk
A pinch or two of lemon zest
The juice of one lemon (2 to 3 Tbsp)
1/8 tsp white pepper
1/4 tsp dill (optional)
1/3 cup melted butter
Wisk ingredients until well blended.

Broil fish with dressing until done. (Thin pieces will not need to be
turned. Thicker pieces will need to be broiled on each side. Do not overcook. Remove fish from the broiler when the flesh is still slightly translucent in the middle. It will finish cooking to melt-in-your-mouth perfection from the heat held in the pan and fish.)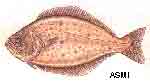 Immediately after removing halibut from the broiler, poor lemon butter sauce over the top (the heat from the fish will cook the egg yolk sufficiently).
Serve on a bed of rice.
Juneau Outdoorsman Butch Carber likes to cook the fish his wife catches. He's experienced at cooking in the wilderness as well as in the urban kitchen. Having tried many halibut recipes over the years, this has proven to be their favorite halibut recipe. It enhances the wonderful flavor of fresh or frozen halibut.
---
Subscribe to be notified about new issues
Receive a monthly notice about new issues and articles.