Alaska Department of Fish and Game
---
Most ADF&G website information and services will not be available on Sunday, October 11 as the State of Alaska will be doing planned maintenance in Juneau on that date between 5 am – 9 pm AKST. We apologize for any inconvenience this may cause.
Facebook
Twitter
Google+
Reddit

Alaska Fish & Wildlife News

October 2005
Recipe: Cranberry Venison Stew

By ADF&G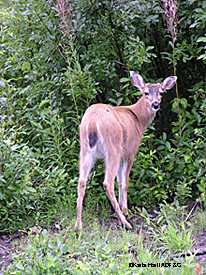 Cranberry Venison Stew
Brown in a large cast iron skillet:
4 tablespoons of unsalted butter
2 tablespoons of olive oil
2 pounds of venison, cubed
Simmer two hours with:
1/2 teaspoon each - salt and pepper
4 to 6 cloves of garlic minced
2 medium onions
1 cup of red wine
2 tablespoons of red wine vinegar
1 tablespoon tomato paste
Add and cook 10 minutes:
combined:
1/3 cup brown sugar
2 tablespoons flour
1 & 1/2 cups coarsely chopped cranberries
Best served the next day: cool and refrigerate. Reheat and serve over rice noodles, traditional pasta, or rice.
---
Subscribe to Fish and Wildlife News to receive a monthly notice about the new issue and the articles.
Secondary Site Navigation
October 2005
---
Select Issue
---
Magazine
Information
Editor:
Riley Woodford

1255 West 8th St.
Juneau, AK 99801
(907) 465-4256
Questions or comments:
Wildlife News Info

To subscribe contact:
AWN Subscriptions

To unsubscribe:
Unsubscribe

---
Alaska Department of Fish and Game
P.O. Box 115526
1255 W. 8th Street
Juneau, AK 99811-5526
Office Locations