Alaska Department of Fish and Game
---
Facebook
Twitter
Google+
Reddit

Alaska Fish & Wildlife News

July 2005
Wood Bison on the Horizon
Bison Questions Answered
By Tim Mowry
In early June, a public advisory committee endorsed the state Department of Fish and Game's plan to restore wood bison to Alaska. The following Q & A addresses a number of questions surrounding when, where and how the reintroduction program will be carried out.
What kind of time frame are we looking at for restoring wood bison to Alaska?
That's a good question, considering the state has been working on restoring wood bison for the past 14 years. There are several obstacles that need to be overcome before bison can be brought into Alaska, foremost of which is a ban preventing bison or other ruminants from being imported because of concerns about mad cow disease.
The consensus among members of the Wood Bison Restoration Advisory Group and officials with the state Department of Fish and Game is to release wood bison somewhere in Alaska as soon as possible. The state was hoping to put in an order for bison this fall, but it doesn't look like that will happen, due to the ban. Officials are hoping the ban will be lifted next spring, or at least that an exemption will be made for bison.
"If the border issue is resolved in the spring, I don't see why it wouldn't be possible to start bringing bison to Alaska in the fall of 2006, transfer them to a winter release site and release them in the spring of 2007."
But Randy Rogers, a wildlife planner with the Alaska Department of Fish and Game, admits "that might be the most optimistic view."
What's the difference between wood bison and the Plains bison in Delta Junction?
Not much, really. Wood bison are slightly larger, darker and have a squarer hump than Plains bison. They have little or no chap hair on their forelegs, long straight hair sloping down on the forehead and smaller, more pointed beards. Cow wood bison average about 1,200 pounds and adult wood bison bulls average 1,800 pounds or more. Wood bison are the largest land mammal in North America.
How many bison are we talking about?
The state would like an initial release of at least 40 adult wood bison to get a herd started and build it up over time with incremental releases and natural reproduction.
"The rule of thumb is to try to get at least 40 animals for genetic purposes," said state wildlife biologist Bob Stephenson, who has handled most of the research regarding a wood bison restoration program in Alaska.
The hope would be that the herd would grow about 20 percent a year to 400-500 animals over the course of time, which would be big enough to sustain both itself and a limited harvest for subsistence and sport hunters.
"Even then you're looking at 10 to 12 years to get to 400," said Stephenson.
Where would the wood bison come from?
Other than about a dozen wood bison being held at the Alaska Wildlife Conservation Center in Girdwood, the only wood bison remaining in the world are located in Canada, where there are about 3,000-4,000 disease-free wood bison in a half dozen free-ranging and a half dozen captive herds. There are another 3,000-4,000 bison in diseased free-ranging and captive herds.
The state has had discussions with officials at Elk Island National Park in Alberta, which has a surplus stock of wood bison that is available on a two-year cycle, but there are some concerns regarding diseases with the Elk Island Herd. The state has also talked with the LaPrarie Ranch outside of Whitehorse, which has about 100 wood bison. Those animals came from several wood bison that were captured from the Yukon herd because they posed a danger along the Alaska Highway. There is also a chance the state could get some bison directly from the Yukon Herd, though that possibility hasn't received much attention.
How can the state be sure the wood bison are disease free?
Any bison released in Alaska would be tested for disease by veterinarians before being shipped from Canada and also at a holding facility somewhere in the state before they were released.
"We're not going to be taking any chances," said Rogers. "We need to be 100 percent certain we're not going to bring any animals into state that are going to affect other animals or livestock."
Where will wood bison be released?
That's still up in the air. The Department of Fish and Game has identified three possible reintroduction sites in the Interior and the Wood Bison Restoration Advisory Group recommended that the state pursue all three possibilities.
The Yukon Flats south of the Brooks Range, the Minto Flats northwest of Fairbanks and the Innoko River country in northwest Alaska are the three sites Fish and Game has selected as having the potential to suit the habitat needs of a substantial wood bison herd. Each site has different issues that need to be resolved before bison are turned loose.
"Depending on how things work out, any one of them could be the first one where wood bison are released," said Rogers.
What kind of obstacles does a wood bison reintroduction program face?
Several, the most obvious is the current ban that prevents Canada from shipping any bovine animals out of the country because of mad cow disease concerns.
Land issues are also a concern. The federal government has not embraced the idea of putting wood bison on the Yukon Flats National Wildlife Refuge and the land identified as a possible release site along the Innoko River is also sandwiched by national wildlife refuges.
Funding is also a question mark. The Division of Wildlife Conservation is working on a shoestring budget as it is and a restoration program will carry a heavy price tag.
How much will a restoration program cost and where will the money come from?
According to a preliminary cost-benefit analysis, estimates for establishing a wood bison herd in Alaska are about $2 million over a 25-year time period. The estimated benefits the state would derive from the restoration of wood bison is $12 million, according to the preliminary study. The final price tag would be contingent on a number of factors, including how many animals are released, where they are released and where they come from.
As for where the money would come from, the state Department of Fish and Game recognizes it must find outside or private sources of funding to make the project viable, Rogers said.
"We don't have the budget to sink a lot of money into this," he said.
The Safari Club International, a hunting organization that caters to sport and trophy hunters, has already pledged financial support for the project and the state is in the process of applying for grants from wildlife conservation agencies and groups.
The state has also considered approaching TV mogul and ranch owner Ted Turner, an advocate of bison restoration, about possible funding for the program.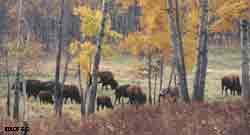 Will predators like wolves and grizzly bears be a problem?
Judging from what biologists in Canada have seen and from experiences with Plains bison in Delta Junction and other parts of Alaska, predators don't pose a problem for bison.
"We haven't seen much predation at all," said biologist Tom Jung with the Yukon Department of the Environment, who monitors a herd of about 600 wood bison in Canada. "We expect it will happen but we haven't seen it yet."
Neither has predation proven to be a problem for bison in Delta Junction, where vehicles kill more bison than wolves and bears do. Because of their large size and the fact they stay in herds, bison are less vulnerable to predators than moose and caribou.
"They seem to be as immune to predators as you can get," said David James, regional director for the Division of Wildlife Conservation in Fairbanks.
Would a wood bison herd be available to sport hunters or just subsistence hunters?
Though it will probably take several years, the plan is for the herd to support both subsistence and sport hunts. A herd of 500 bison should be able to support a harvest of about 50 bison a year, based on a 20 percent a year growth rate.
What kind of effect will wood bison have on other wildlife?
Because they eat mostly grass and sedges, wood bison shouldn't compete with moose or caribou for food. Their biggest impact would likely be on waterfowl like ducks and geese, which like to nest in grassy meadows to help them hide from predators. It's unknown what kind of impact a wood bison herd would have on waterfowl habitat, but studies have shown that grazing by wood bison increases habitat diversity. Wood bison in the Yukon Territory and Plains bison in Alaska live side-by-side with moose and other wildlife and seem to get along just fine.
What's the next step in the restoration process?
The Department of Fish and Game is in the process of conducting an environmental analysis of the main issues involved with the reintroduction program, as well as pursuing the permits needed to import bison from Canada to Alaska. The department is planning meetings in the fall to gather more public comment and will also be looking for funding sources for the project.
Who and what is Wood Bison Restoration Advisory Group?
The advisory group is composed of people representing diverse interests in Alaska wildlife management and they all supported wood bison restoration in Alaska. These are groups that often disagree on topics like subsistence management or wolf control, but they
reached consensus on wood bison restoration. Members are Bruce Thomas, representing CATG Natural Resources Dept.; Paul Edwin, representing Chalkyitsik Village Council; Nancy Fresco representing the Northern Alaska Environmental Center; Bob Byrne representing the Safari Club International; Nicole Whittington-Evans representing the Wilderness Society; Ron Silas representing the Minto-Nenana Advisory Committee; Arnold Hamilton representing the GASH Advisory Council; Oliver "Bud" Burris representing the Fairbanks Advisory Committee and the Alaska Outoor Council and Ronnie Rosenberg, representing animal welfare interests and not affiliated with a formal organization.

Compiled by Tim Mowry. This article was reprinted from The Fairbanks Daily New Miner, by permission, with additional material added by Riley Woodford.
---
Subscribe to Fish and Wildlife News to receive a monthly notice about the new issue and the articles.
Section Navigation
July 2005
---
Select Issue
---
Magazine
Information
Editor:
Riley Woodford

1255 West 8th St.
Juneau, AK 99801
(907) 465-4256
Questions or comments:
Wildlife News Info

To subscribe contact:
AWN Subscriptions

To unsubscribe:
Unsubscribe

---
Alaska Department of Fish and Game
P.O. Box 115526
1255 W. 8th Street
Juneau, AK 99811-5526
Office Locations