Alaska Fish & Wildlife News

March 2005
Becoming an Outdoors Woman

By Cathie Harms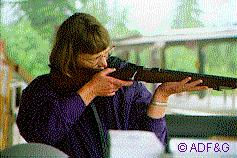 In 1990, Dr. Christine Thomas was sitting at a campfire with a group of friends, wondering aloud why they didn't see more women outdoors. Thomas, a professor of Natural Resources at the University of Wisconsin Stevens Point, decided to find some answers.
The question led to a symposium in Wisconsin with guests from many other states. They itemized the barriers to outdoor activities perceived by women. Two thirds of the barriers listed related to the fact that once they got there, most women didn't know what to do outdoors – they didn't learn from their parents as youngsters, or didn't belong to outdoor groups as children. When they reached adulthood, they often found that their life partner wasn't the perfect teacher of outdoor skills.
To help adults learn outdoors skills, the first Becoming an Outdoors Woman (BOW) workshop was held in Wisconsin in 1991. More than 100 women attended introductory-level classes on outdoors skills, met new friends and had a fun-filled weekend. Within five years, most states and many Canadian provinces were hosting BOW workshops. Today, about 46 states, eight provinces, and at least two other countries offer BOW workshops, and more than 20,000 women attend events every year.
The first workshop in Alaska was held in 1995 at Chena Hot Springs, about 60 miles east of Fairbanks. It was sponsored by the Alaska Department of Fish and Game and the Hunter Heritage Foundation of Alaska, a nonprofit organization dedicated to helping Alaskans learn more about outdoor activities. About 100 eager participants endured three days of pouring rain with high spirits and nary a complaint. It was such a positive experience for everyone involved that participants wanted to return, instructors wanted to volunteer again and staff couldn't wait to share the fun again.
Since then, I have been fortunate to attend all of the workshops held in Alaska. I've been invited to teach at workshops in Wisconsin, Minnesota and Kentucky, and I've attended Coordinator Conferences in Missouri, Kentucky, Montana and Wyoming. I'm happy to report that our workshops rank with the best of them in terms of incredible instructors, quality classes and fun.
2005 is our tenth anniversary of BOW in Alaska. We've held workshops near Palmer and Juneau, three in Soldotna, and the rest near Fairbanks. We have developed a team of ADF&G staff who serve as coordinators, an amazing army of volunteer instructors, and thousands of women and men have enjoyed workshops and helped spread the word about the program. Three workshops will be held in 2005. A winter one was held in Soldotna in February. A summer workshop will be held in Fairbanks in August, and an experimental workshop for military dependents near Fairbanks in October.
Despite the title, Becoming an Outdoors Woman workshops are hosted by a state agency, which abides by EEO regulations. Men can and do attend workshops (about 15 so far). The program is called "Becoming an Outdoors Woman" because we strive to create and maintain an atmosphere in which women learn best – safe, supportive and not highly competitive. The men who attend are usually spouses of participants and very enthusiastic about the program.
BOW workshops are generally held at camps or resorts. Participants stay in heated cabins or lodges that may be rustic but have basic modern amenities including hot showers. Meals are provided and cooked by the camp staff. The focus for the weekend is learning and having fun. Participants span the ages of 18 to 80. In addition to learning new activities, BOW participants are also treated to a variety of evening entertainment including outdoor clothing fashion shows, outdoor storytelling, raffle prizes and more.
Each workshop offers four 3 ½ hour class periods on Friday afternoon, Saturday morning, Saturday afternoon and Sunday morning. During each class session, from six to 12 different classes are offered simultaneously, and participants can take only one class per session. They choose from a list of topics: about one third focus on shooting or hunting, one third on fishing, and one third on other outdoor skills. In summer that could be camping, survival, map and compass, canoeing, kayaking or Dutch-oven cooking. In winter, classes include cross-country skiing, winter survival, snowmobiles, dog mushing and snowshoeing.
BOW workshops begin Friday at lunch time and end after lunch on Sunday. In addition to the four classes, participants enjoy two evening programs that we strive to make both educational and entertaining. Tuition of approximately $200 covers meals, lodging, four classes, two evening programs, and a nifty T-shirt. (Most workshops also offer a limited number of scholarships based on need.)
Three rules of BOW are absolutely mandatory:
1. Safety first – no one can relax and enjoy themselves if they are worried about their or their friend's safety.
2. Have fun – (we've been know to prosecute violators of Rule 2)
3. (perhaps the most important rule) No politics. People can't relax if they feel they have to justify their beliefs and principles. At BOW, we just don't discuss it.
These rules are the foundation of the non-threatening atmosphere we strive to achieve. We train our volunteer staff to be on the watch for unsafe conditions, to be friendly and encourage fun among participants, and to interrupt conversations that venture toward politics with, "Gee, that sounds political, you'll have to finish this conversation on Sunday afternoon."
In addition to learning some basic outdoor skills, participants develop camaraderie throughout the weekend, meet new friends and develop more confidence in the outdoors. One of the comments we hear is, "BOW changed my life."
But BOW is kindergarten, not college. Throughout the country, requests for a "next step" in outdoor learning are heard. BOW may teach someone how to shoot a shotgun, but that person needs to learn more if they want to go grouse hunting. The answer could lie in another program called "Beyond BOW."
The Department of Fish and Game now regularly hosts BOW programs in Interior and Southcentral Alaska, and interest is growing in offering another workshop in Southeast. BOW is limited to adults, but interest is high among other age groups. As a result, we often cooperate with the Hunter Heritage Foundation of Alaska and other organizations to host "Beyond BOW" activities for families or graduates of the BOW program. So far, we've offered classes on survival, ice fishing, wildlife identification, canoeing, Dutch-oven cooking, moose calling, and butchering your moose. Staff and volunteers are working out the details of hosting a caribou hunting trip for a limited number of BOW graduates within the next year. We are also working with some outdoor organizations to develop a mentoring program to help bridge the gap between BOW's introductory classes and actually participating in outdoor activities.
Because so much of the BOW program is carried by volunteers for Fish and Game and the Hunter Heritage Foundation, the expense to the department is relatively small. We look forward to sharing learning opportunities with Alaskans throughout the state in the future.
For more on Becoming an Outdoorswoman, see www.wildlife.alaska.gov/education/huntered/bow/cfm
---
Subscribe to be notified about new issues
Receive a monthly notice about new issues and articles.