Alaska Fish & Wildlife News

August 2023
Mountain Goats: Billy or Nanny
Southeast Alaska Hunters Need to Know
By Staff
The 2023 mountain goat season began Aug. 1 with a new regulation for Southeast Alaska goat hunters. Hunters are now required to take an online mountain goat identification quiz before hunting goats in Southeast Alaska whether hunting with a registration or draw permit. The quiz tests a hunter's ability to identify male vs. female goats.
The goal of the new requirement is to encourage hunters to select male goats for harvest. Selectively harvesting males is important for sustainably managing goat populations. Mountain goats have low reproductive rates and often do not reproduce every year. Reducing female harvest helps maintain the reproductive potential of the population. Females without kids are still eligible for harvest in most areas of Southeast Alaska, however, reducing female harvest will provide more harvest opportunity in the future.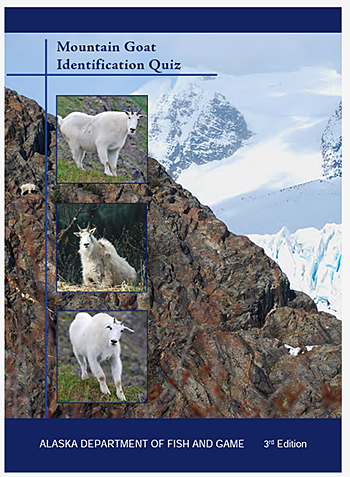 Once a hunter passes the quiz, their information will automatically be placed on a list of those who have passed.
More information is available regarding specific goat hunts by contacting area offices:
Douglas Office: 907-465-4265
Sitka Office: 907-747-5449
Petersburg Office: 907-772-3801
Ketchikan Office: 907-225-2475
More Wildlife Identification Quizzes
---
Subscribe to be notified about new issues
Receive a monthly notice about new issues and articles.