Alaska Fish & Wildlife News

April 2023
Alaska's Special Areas

By Marian Snively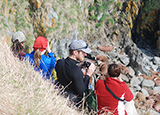 If you want to observe walruses roar, swim, and quarrel - or watch brown bears feed, tussle, and nurse their young - you should visit Alaska's Special Areas. The Alaska State Legislature has designated 32 Special Areas, with more than 3.2 million acres of some of Alaska's most productive fish and wildlife habitats. The Special Areas include 12 State Refuges, 17 Critical Habitat Areas, and three Sanctuaries: Walrus Islands, McNeil River, and Stan Price , home to walruses, bears ... Lands and Refuges Article Continued
---
Landscaping for Wildlife

By Arin Underwood
Spring is around the corner in Alaska and with it the arrival of migratory birds and pollinators, hibernating mammals waking up, frozen frogs thawing out, and the start to gardening season. Landscaping and gardening activities can benefit Alaska's wildlife and if done intentionally, help promote coexistence with our incredible natural biodiversity. Here are some tips to make your backyard more friendly to your local critters this spring and summer.
Making a Plan
To enhance ... Landscaping for Wild Article Continued
---
2023 Alaska Bird and Wildlife Festivals

By Riley Woodford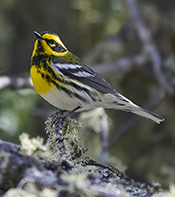 A number of birding and wildlife festivals are planned in the coming months. In many cases, planning is still underway and specific presenters are being finalized, but most festivals will feature guest presentations, birding outings, youth activities and guided walks and tours. Check with specific festivals regarding advance registration, travel and lodging details, and ancillary outings through local guides and marine transporters which include additional charges.
Alaska Hummingbird Festival
April ... Wildlife Festivals Article Continued
---