Alaska Fish & Wildlife News

February 2023
The bear with a jug stuck on its head
and other tales of animal interventions
By Riley Woodford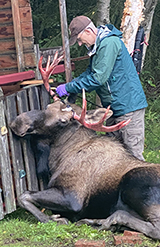 Wildlife biologists in Alaska have untangled moose from telephone wires, fences, and swing sets; they've helped bear cubs out of dumpsters, extracted muskrats and marmots, pulled quills out of moose and pulled moose out of homes. And yes, they've pulled jars off bears' heads.
Contrary to popular belief, rescuing animals is not a big part of the job of a wildlife biologist. But sometimes these scenarios work out for people and the animals.
"People always hear ... Helping Animals Article Continued
---
Wood Bison Restoration in Alaska
2022: A Year of Progress
By Jen Curl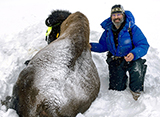 A storm to remember
On December 30th of 2021, a relatively warm, anomalous weather system moved through Interior Alaska, particularly impacting areas around Fairbanks, Healy, and Delta Junction. It snowed close to a foot, rained for 24 hours, the rain froze into a thick ice layer, and then another foot of wet snow fell on top of the ice. Some areas experienced even higher amounts of snowfall from the storm.
In the Fairbanks area around the regional ADF&G office where Wood Bison ... Wood Bison 2022 Article Continued
---
Super 7 Big Game Raffle

By Molly McCarthy-Cunfer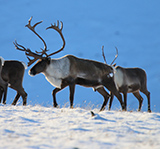 The hood of my rain jacket rattles against my ears, blocking all other sounds as I climb a soggy mountainside in the Alaska Range on a chilly late-September morning. The ground is a mushy mess, and I'm thankful for the gaiters I pulled on over my hiking boots this morning. I can't wait to get into the alpine where this mud won't be as prevalent, but I know it won't get any easier once we're exposed. As we pop out of the trees and make our way into the alpine, the ... Super 7 Raffle Article Continued
---