Alaska Fish & Wildlife News

May 2021
European Green Crab: Will they
be the next aquatic invasive species in Alaska?
By Tammy Davis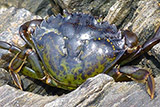 With the recent celebration of the 51st Earth Day, April 22, 2021, and Alaska Invasive Species Awareness Week on the horizon, June 13 – 19, May is an opportune time to think about non-native organisms that can have negative impacts on Alaska ecosystems, economies and human health.
Natural resource managers strive to raise awareness about these invasive species by describing the threats they pose to native species and by sharing information about how to identify them and where they ... European Green Crab Article Continued
---
Protecting and Improving Fish Habitat
The Cost-Share Program
By Jessica Johnson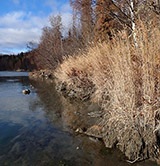 Many Alaskans who own property along rivers, streams, and lakes enjoy convenient access to fishing and boating along with the beautiful scenic views only available in Alaska. For anyone living along a waterbody, one of the biggest headaches is the threat of erosion and the loss of their property. Erosion can be a naturally occurring process or caused by human activities. Often, many landowners are unaware that their own actions are contributing to the loss of their property or having a tremendous ... Protecting Habitat Article Continued
---
Hair Snares "Trap" Grizzly Bears

By Riley Woodford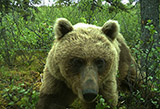 Biologists with the Alaska Department of Fish and Game will be setting about 100 hair snares for bears in Southcentral Alaska's Game Management Unit (GMU) 13 this summer. These "hair traps" use strands of barbed wire to snag tufts of fur and don't capture or restrain the bears. DNA in the hair follicle provides valuable biological information about the bears.
"Our goal is to get an abundance estimate, to learn how many grizzly bears are on the landscape," ... Hair Snares & Bears Article Continued
---