Alaska Fish & Wildlife News

April 2021
Foxes Wear New Coats for Spring

By Riley Woodford and Arin Underwood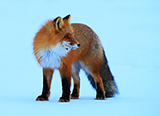 Spring brings changes to Alaska's wildlife. One of the most pronounced is the new fur coat sported by the arctic fox, which transforms from fluffy white to sleek brown-and-grey, better suited to warmer days and the relatively snow-free landscape of the Arctic summer.
The arctic fox's close cousin, the red fox, is also found in the Arctic and is abundant in the north. While there are many color variations in red fox, they do not turn white. The coat of both foxes is a combination ... Foxes Article Continued
---
ALERT: Invasive Zebra Mussels
Have Illegally Hitchhiked to Alaska
By Tammy Davis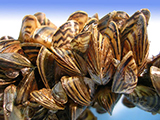 In early March this year, I received the type of alert I have been dreading since I started working as the invasive species program coordinator for the Department of Fish and Game 15 years ago. The US Geological Survey sent an automated report to me and others across the nation, that invasive zebra mussels had been found attached to aquarium moss balls by a keen-eyed employee of Petco in Seattle, Washington.
Within a few hours, my inbox was on fire with messages from invasive species coordinators ... Zebra Mussels Article Continued
---
Shooting Ranges, Hunter Education & Outdoor Skills
Classes for 2021
By Riley Woodford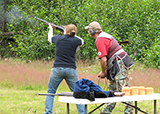 Scores of hunter education and outdoor skills classes will be offered by Fish and Game in 2021, despite some challenges from COVID and a widespread ammunition shortage.
Hunter education classes – which emphasizes a solid firearm safety component – will be offered in close to a dozen communities in 2021. Deer hunting and field dressing, basic map and compass, introduction to archery, identifying wild edibles, survival, and pack rafting are among the wide variety of classes that ... Hunter Ed & Classes Article Continued
---
Sablefish Tag Drawing Winners 2021

By Madison Bargas and Riley Woodford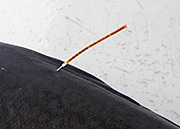 Each year the Alaska Department of Fish and Game rewards all persons who return an ADF&G sablefish tag with a tag reward, a hat or t-shirt. Additionally, each tag returned to the department with complete recovery information (fisherman's name, date of recovery, and latitude and longitude) is entered into a random drawing for a cash prize. Multiple tags can result in multiple wins, as this year's results show. A total of 1,183 tags qualified for this year's drawing.
The ... Sablefish Tag Winner Article Continued
---