Alaska Fish & Wildlife News

February 2021
Don & Mary Williams
Stewardship on the Kobuk River
By Riley Woodford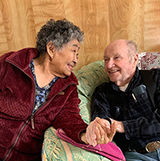 Don Williams settled in the Arctic in 1963, embracing the life and people of Northwest Alaska. He met his Inupiaq wife, Mary, there and they started a family in Ambler, befriending biologists that came north to live and work. Caribou were central to that work, and Don and Mary Williams proved to be immensely valuable. They were recently honored with Fish and Game's Public Stewardship Award, and Don and his colleagues reflected on their decades of work together.
Ambler, home to about ... Don & Mary Williams Article Continued
---
McNeil River Bear Viewing

By Ed Weiss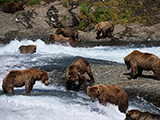 Feeling those mid-winter pandemic blues? It's a new year, and time to prepare for new adventures!
If you've ever wanted to view bears up close in their natural environment, then viewing brown bears at McNeil River State Game Sanctuary should be your next big adventure. The largest known gathering of brown bears in the world happens at McNeil River.
Each summer Alaskan Peninsula brown bears gather at the McNeil River State Game Sanctuary to breed, feast on local sedges ... McNeil River Bears Article Continued
---
Sam's Garage: A History of Fishery Enhancement
in Southeast Alaska
By Amy Carroll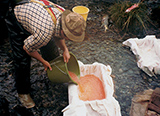 In November of 2015, while working in my cubicle at the Alaska Department of Fish and Game headquarters in Juneau, Alaska, I got a call from Sam Bertoni, a retired fishery biologist. He had three large boxes of hatchery slides, prints, and negatives from the 1970s and 1980s he fished out of the garbage and took with him when he retired. They had been in his garage for decades and he heard from someone who knows someone that I was scanning old Fish and Game slides for the ADF&G Image Library. ... Fishery Enhancement Article Continued
---