Alaska Fish & Wildlife News

October 2019
Wildlife Well Photographed in Deer Study
Mitkof Island deer are focus of project
By Joe Viechnicki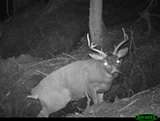 More than sixty game cameras are capturing thousands of photographs of the animals that wander some remote spots on Mitkof Island in Southeast Alaska. The cameras, in four groups of 16, are part of a multi-year study underway to better understand the number of deer on the island.
On a soggy September morning, rainfall from the previous night cascades into a rock pit on a logging road on the central part of the island south of Petersburg. Dan Eacker, the Alaska Department of Fish and Game's ... Deer Research Article Continued
---
Counting Rockfish with Sound
Black rockfish hydroacoustic surveys
By Riley Woodford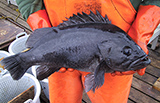 Along the coast of Kodiak Island and the Alaska Peninsula, schools of rockfish swim the green waters surrounding submerged pinnacles and reefs. Biologists identify and count these fish using a remarkable set of tools, and use what they learn to make sure the fishery is sustainable.
Black rockfish are the main species of interest, but dusky rockfish and dark rockfish are also common. Black rockfish favor nearshore rocky habitat and relatively shallow water, and they have an affinity for ... Black Rockfish Article Continued
---