Alaska Fish & Wildlife News

April 2019
The View From Alaska's Wild Side

By Ken Marsh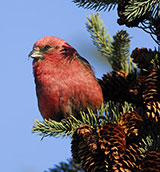 "One touch of nature makes the whole world kin." —William Shakespeare
The surf charges in with a drumroll that crescendos, peaks, then breaks in a carbonated hiss. It's late afternoon and, wrapped in waders and raingear, I've left my rented shack for the sand dunes of a lonesome Gulf Coast beach. The idea is to hike inland across the dunes, against a steady rain, and into the wetlands beyond to explore and witness a rare natural wonder.
Overhead, ... Alaska's Wild Side Article Continued
---
Accessible Viewing Options

By Ken Marsh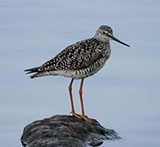 Beyond Alaska's cities, yet easily and affordably accessible by road, rail, air or boat, are several national and state parks. In many cases, concessionaires provide wildlife-viewing tours and easy access and accommodations in and around parks while rangers are on hand to answer questions and point out wildlife and viewing areas of interest. Some popular national parks offering very different bird- and wildlife-viewing options include:
Denali National Park and Preserve ... Accessible Viewing Article Continued
---
Prescribed Fire on the Delta Junction Bison Range

By ADF&G Staff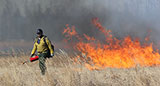 The Alaska Department of Fish & Game, in partnership with State Forestry, is planning to once again burn forest and grassland near Delta Junction in Interior Alaska in the spring of 2019. The intent of the prescribed burn is to enhance habitat for bison, although moose and grouse will also benefit.
Because the snow is melting quickly this year managers will be ready to go into the field in early to mid- April. This year, fire and habitat managers are integrating a Terra Torch ... Prescribed Fire Article Continued
---
Drones and Hunting

By Riley Woodford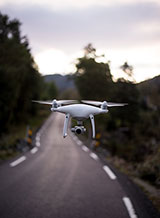 Wildlife managers in Alaska - and across the country - are responding to the growing use of drones by hunters and wildlife enthusiasts. Drones, also known as Unmanned Aircraft Systems (UAS) often transmit video. I recently received an inquiry from a hunter (who produces videos and podcasts) interested in documenting a bear hunt.
I will be coming up to Homer Alaska at the end of May to film a bear hunt and some fishing. We are currently working with the state to get the proper permits. ... Drones and Hunting Article Continued
---