Alaska Fish & Wildlife News

December 2018
Yukon River Moose Meet
An Alaska Winter Hunting Adventure
By Mark Stopha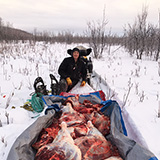 I got the heads-up call the second week of February from Doug in Bethel. The next week was forecast for colder weather and snow. The plan was to go hunting for moose or muskox on sno-gos (the local term for snow machines). I started packing.
Doug called the following Wednesday and said they planned to go hunting for muskox on Friday. He had a tag, and I could have lots of meat since his freezer was full. I threw my gear together, bought a one way mileage ticket from Juneau to Bethel, ... Moose Meet Article Continued
---
Goin' with the Flow
The Instream Flow Program Protects Fish Habitat
By Ann Marie Larquier and Leah Ellis
"Four point five four at twelve point five!" I yelled.
"Four point nine four?" came back from the stream bank.
"No, four point FIVE four!"
What was I doing standing in Granite Creek, a glacially-fed river east of Palmer for nearly an hour, yelling numbers to Leah over the roar of the water? Not only was the fast-moving water testing my balance, but (now that it was October) the water temperature hovered right ... Goin' with the Flow Article Continued
---
ADF&G Public Use Cabins

By Nancy Sisinyak & Erik Anderson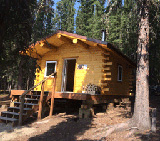 If you are looking for a fishing get-away this winter season, consider reserving one of the six Alaska Department of Fish and Game (ADF&G) public use cabins. Each of the cabins is situated on a lake offering great fishing opportunities, so be sure to haul in an ice auger and your fishing gear. All of the cabins are secluded and rustic. They are all equipped with a wood stove to keep you warm and toasty.
Nestled in the foothills of the Alaska Range, the Ken's Pond cabin has ... Public Use Cabins Article Continued
---
American Marten Field Guide

By Kerry Nicholson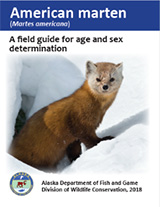 The Alaska Department of Fish and Game recently created a field guide for trappers to help them quickly determine the age and sex of the marten they catch. This provides trappers with the ability to monitor their marten harvest and help prevent over-harvest of local populations.
Why monitor your marten harvest?
Marten are sensitive to over-harvest because they are easy to catch. This makes managing marten a challenge because there is no way to specifically select for a certain sex ... Marten Field Guide Article Continued
---