Alaska Fish & Wildlife News

July 2018
Yearling Black Bears in Alaska
Transition to Independence
By Riley Woodford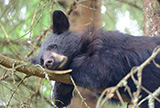 It's normal for mother black bears to "kick their cubs loose" in June – typically cubs that are about a year-and-a-half old. For Alaskans living in prime black bear habitat that can mean we witness our young black bear neighbors making their transition to independence. Sometimes it's a bit painful to watch.
"The phone has been ringing off the hook with people worried about cubs," said state wildlife biologist Carl Koch, who is based in Douglas in ... Yearling Black Bears Article Continued
---
Problems with Pike
Why We're Removing them from the Kenai Peninsula
By Robert Massengill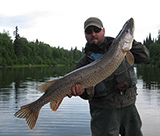 My twelve-year-old knees were trembling as I stood in waist deep grass along the bank of Coon Creek. The fish that just tried to swallow my red-and-white daredevil spoon was a monster. I saw its wake trailing behind the spoon and, when it tried to inhale it, I reacted too fast and jerked the lure out of its white mouth before it could close down with its over 700 teeth. I had no idea that this urban Minnesota creek could contain such a beast. That northern pike was the largest fish I'd ... Problems with Pike Article Continued
---
Defining Success
with a long-sought Dall's Sheep Tag
By Rick Merizon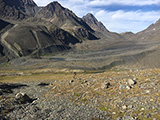 Lets set some ground rules right from the beginning. I'm not an experienced big game hunter. I'm definitely not a sheep hunter. And most all, if you're reading this story to hear some grand adventure that results in a 42" trophy Dall's sheep ram harvested high on a wind-swept mountain top, you'll be sorely disappointed. This story is rather about a naive flatlander experiencing the hardships and subtle sweet rewards of sheep hunting for the first time.
I ... Dall's Sheep Hunt Article Continued
---
The Truth about Wildlife Management in Alaska
Guest Editorial
By Sam Cotten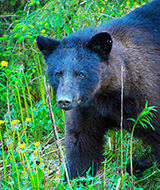 Alaska's support for the National Park Service's recently proposed amendments to hunting and trapping practices on national preserves in Alaska is not about trophies. It does not concern sport or recreation. It has nothing to do with predator control.
Alaska's scale and geography are incomprehensible to most Americans. The state is enormous, largely without roads, and in many places as wild today as when its Native people first encountered Russian explorers some 275 years ... Wildlife Management Article Continued
---
Ticks the Focus of New Research in Alaska

By Riley Woodford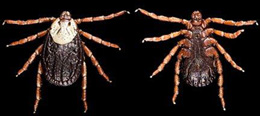 Researchers studying ticks in Alaska are seeing more of the small arachnid parasites than ever before.
"I've been getting multiple calls some days about ticks on hares, squirrels and dogs," said Kimberlee Beckmen, a veterinarian with the Alaska Department of Fish and Game, based in Fairbanks. Beckmen said the past two years are the busiest she's seen since she began monitoring ticks. That's also true for State Veterinarian Bob Gerlach, with the Department of ... Tick Research Article Continued
---