Alaska Fish & Wildlife News

June 2018
Arctic Grayling Abducted by Alaskan Aliens
Forced to Reveal Secret Migrations
By Andrew Gryska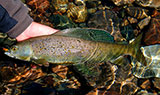 You have heard and read the stories before, often recounted by anglers. People tell a tale of seeing a UFO and being abducted by aliens. Often, they are laid on gurneys to be poked, prodded, and inserted with tracking devices. Well, imagine the stories a grayling must tell its companions when an Alaskan fish biologist steps out of a boat, captures it, and inserts a radio tag into it for the purpose of revealing its secret migrations.
Even more interesting are the stories the grayling have ... Arctic Grayling Article Continued
---
Prescribed Burn on the Delta Junction Bison Range

By Sue Rodman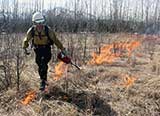 Hats turned on backwards and sunglasses on, Mary Jo Hill, Gabe Pease-Madore and Sue Rodman drove their ATV's into the Panoramic Fields of the Delta Junction Bison Range in early May to evaluate fuel moisture and site conditions for the upcoming planned prescribed fire. Taking place about two and a half weeks later than the 2017 burn, staff from ADF&G and State Forestry hoped that the recent winds and warm temperatures would have dried out the fields enough to ignite portions of the DJBR ... Habitat Enancement Article Continued
---
Alaska Hatcheries and Fisheries Centers

By Molly McCarthy
As families are beginning to plan out their long summer days, staff at our two Alaska Department of Fish and Game, Division of Sport Fish hatcheries are gearing up for an exciting summer filled with activities such as rearing fish, stocking fish in area lakes, and educating the public about fish hatchery operations. In fact, as you're reading this article, fish culturists from the William Jack Hernandez Sport Fish Hatchery in Anchorage and the Ruth Burnett Sport Fish Hatchery in Fairbanks ... Alaska Hatcheries Article Continued
---
New Digital Systems Sharpen Alaska Caribou Counts
Counting the herd
By Kari Rasmussen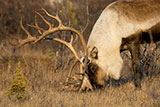 Counting caribou in Alaska's largest herds has become more effective, thanks to a pair of newly acquired digital aerial camera systems. The systems replace World War II-era black-and-white film cameras previously used since the 1970s. Last summer, the new camera system enabled biologists to pinpoint numbers for the Porcupine, Fortymile, Central Arctic, Teshekpuk, and Western Arctic caribou herds.
"At least three of those herds wouldn't have been photographed (last summer) ... Counting the herd Article Continued
---