Alaska Fish & Wildlife News

April 2018
Hagfish are not Slime "Eels"
Biologists Investigate Amazing Sea Creature
By Riley Woodford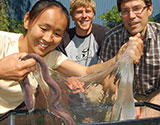 Biologists prefer the name hagfish over the equally unflattering name "slime eel" because although hagfish do produce slime, they are not true eels. They are however, veritable slime-producing machines - one hagfish can fill a bucket with slime in seconds. But despite the slime and their off-putting appearance, there is actually a lot to like about hagfish:

As an undeveloped fishery in Alaska, there is strong potential to provide for an existing market for the meat and skin.

...

Hagfish Article

Continued
---
Kill Site Interpretation
'Sherlocking' your way to an answer
By Mike Taras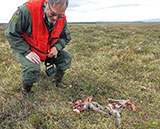 The pictures we received at Fish and Game had the caption, "buck slaughtered by wolves."
Indeed, they were images of a Sitka black-tailed buck carcass lying on top of the snow, but things did not add up. In fact there was quite a bit of evidence that indicated the deer was not killed or even scavenged by wolves. What I looked at in the pictures was that the quarters were all missing, the back straps and neck meat were cleanly gone without damage to bones (i.e. filleted off). ... Kill Sites Article Continued
---
Recreational Boating and Angler Access
Providing Power Boat Access to Alaska Waters
By Terry Thompson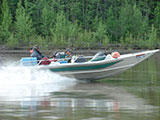 It's probably safe to say that most power boat owners don't give much thought to how, or why a boat ramp is there for their use. But each year thousands of power boat owners splash their vessels in Alaska's lakes, rivers, and marine waters using boating access sites, or what are more commonly called "boat ramps" that are paid for, in part, by sport anglers.
Having public access boat ramps is something that we've grown to expect when we want to get out ... Boater-Angler Access Article Continued
---
Alaska Birding Festivals
and Wildlife Events 2018
By Riley Woodford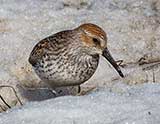 Bears, whales, hawks, and millions of migratory birds will be watched, talked about and celebrated at more than a dozen events in Alaska in 2018.
From the Ketchikan Hummingbirds Festival in April to Sitka Whalefest in November, Alaska has a lot of events for birders and wildlife enthusiasts in 2018.
Alaska Hummingbird Festival – Ketchikan
Date: April 6 – 28, 2018
The Alaska Hummingbird Festival celebrates the return of the Rufous hummingbirds to the Tongass ... Birding Festivals Article Continued
---