Alaska Fish & Wildlife News

February 2018
Crossbows in Alaska

By Riley Woodford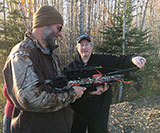 For many people, a crossbow is something only seen in shows about medieval combat or dystopian survival. But a crossbow is the tool of choice for some hunters, and biologists use them to shoot arrows that collect tissue samples or deliver tracking devices to marine mammals like walruses, sea lions and whales.
The image of a crossbow as a powerful, shoulder-fired weapon is accurate. And crossbows themselves are famously accurate at close range. The effective range is similar to a recurve ... Crossbows in Alaska Article Continued
---
A New Alaska Hunter
Gets a Little Help From His Friend
By Stephen Sowell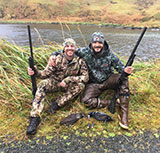 It was a cool early October day in the middle of nowhere, even by Alaska standards. A group of several friends and I were in Adak, Alaska, an island near the western end of the Aleutian chain, 1,200 miles southwest of Anchorage. We were on a mission to bring home some organic, free range, GMO free, delicious caribou for the freezer -- and perhaps a few sea ducks.
My friend Steven was crouching in the tall grass nearby, his eyes trained on a few harlequins headed our way, flying just above ... A New Alaska Hunter Article Continued
---
McNeil Deadline Approaches
New Videos Highlight Sanctuary
By Staff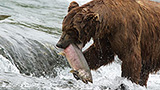 The application deadline for lottery permits to visit Alaska's premier brown bear viewing site at McNeil River State Game Sanctuary is fast approaching. Online applications must be submitted by midnight on March 1, or mailed and received by the Alaska Department of Fish and Game by March 1.
Online applications and printable application forms are available at www.mcneilriver.adfg.alaska.gov through the "Permits" tab and "Viewing Permits" link. More information ... McNeil Deadline Article Continued
---
Contagious Ecthyma Shows up in Mountain Goat
Be aware of how to safely avoid the virus
By Abby Lowell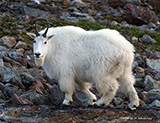 Photos of a mountain goat suffering from contagious ecthyma are not for those with a weak stomach. The scabby growths and lesions that often cover the nose, eyes, lips, mouth and ears look like abnormal scabby warts or oozing callouses. An animal suffering from this virus, which most commonly affects mountain goats and Dall sheep in Alaska, is no doubt in pain. And what's worse, this virus can spread to humans by touching scabs of an infected animal; the virus enters the body through cuts ... Contagious Ecthyma Article Continued
---