Alaska Fish & Wildlife News

September 2017
Hunting Red Squirrels - The Smallest Game

By Mike Taras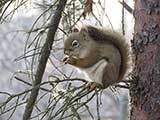 A lot of people probably think that red squirrels are not worth the hunting or trapping effort. They are small critters but they are also abundant throughout forested Alaska, providing an opportunity for hunting and trapping that many people overlook. If you have never eaten squirrel, you should give it a try. Like the gray squirrel, their highly sought after larger cousin in the lower 48, red squirrel is surprisingly tasty.
The Alaska Department of Fish and Game has taught a ... Hunting Squirrels Article Continued
---
Taxidermy Advice for Big Game Hunters

By Riley Woodford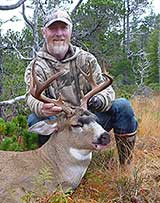 Boyd Porter did not set out to harvest a trophy black-tailed deer. But when he walked up to a big, heavy-antlered buck he had successfully called in, Porter seriously considered having it mounted.
Taxidermists will tell you that is the moment of truth.
"Stop and think about what you want to do before you start cutting," said taxidermist Jeff Kihlmire. "If you've got a bear on the beach and the tide is coming in and it's getting dark, I understand that. ... Taxidermy Advice Article Continued
---
Belugas Count!
Celebrating the Small White Whales
By Riley Woodford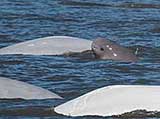 Captain Ahab's obsession with his great white whale may be literary, but it is matched by the real-life dedication of scientists and citizens focused on an endangered group of small white whales in the waters of Cook Inlet near Anchorage.
Cook Inlet is home to a distinct population of belugas, animals that are seen in the silty coastal waters of Knik Arm and Turnagain Arm. The belugas used to be far more abundant - the population today is a fraction of its historic estimate of about ... Belugas Count! Article Continued
---
New field guides available
for big game hunters
By Heather McFarland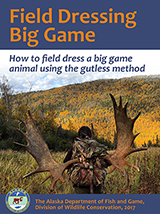 The Alaska Department of Fish and Game recently produced two NEW field guides for big game hunters. The first demonstrates reliable methods for distinguishing between bull and cow caribou and the second provides step-by-step instruction for field dressing big game.
Bull or Cow? How to distinguish between bull and cow caribou in the field (2017) is currently available at area offices or on the caribou hunting pages of the ADF&G website. The pocket-sized field ... New field guides Article Continued
---