Alaska Fish & Wildlife News

August 2017
White Bison Calf Born in Farewell Herd

By Riley Woodford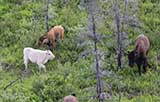 Josh Peirce has seen a lot of bison in his career as a state wildlife biologist. On June 8, 2017, he saw something new – a bison calf with a coat that was white instead of the usual reddish color.
Peirce is based in McGrath, a community about 225 miles northwest of Anchorage on the Kuskokwim River. The white calf was born into the Farewell Bison Herd, one of four herds of plains bison in Alaska. The Farewell area is the general home range of the herd, about 60 miles southeast of McGrath.
Peirce ... White Bison Calf Article Continued
---
Watching for Ticks

By Riley Woodford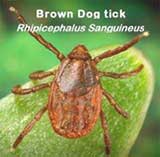 Ticks, small blood-sucking arachnid parasites, are not well-known in Alaska. One species, generally found on squirrels and hares, is fairly common and native to the state, but those aren't the problem. It's the introduction of non-native, potentially disease carrying ticks that's a concern.
Kimberlee Beckmen, a wildlife veterinarian with the Alaska Department of Fish and Game, is working with state veterinarian Bob Gerlach and other researchers to study and monitor the ... Watching for Ticks Article Continued
---
Behind the Scenes: Who Decides
on ADF&G's Bear Safety Advice?
By Elizabeth Manning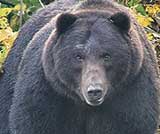 If you've lived in Alaska for a while or visited here, you've probably heard the basic bear safety advice – travel in a group, make noise, never run from a bear.
Most people don't question the bear advice dispensed by agencies but every now and then someone wonders: Who decides on those messages? What information are those messages based on? How do we know the information is current and accurate?
Before we answer, we should make it clear that bear safety is ... Bear Safety Advice Article Continued
---
Amos Burg
Historic Films Now Posted at ADF&G Website
By Celia Rozen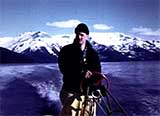 The man's obituary in Alaska Magazine's 1986 "End of the Trail" memorializes him as an "explorer, secret agent, world traveler, free-lance writer, and film maker." Luckily, he was also an ADF&G employee from 1955 until his retirement in 1974 at age 73. The man was Amos Burg - and he made some great films during his time at ADF&G, which you can now watch at your leisure via the ADF&G Vimeo channel. (You can search on Burg Alaska) If you like historic ... Amos Burg Article Continued
---
New guide available for Dall sheep hunters

By Mike Taras
The Alaska Department of Fish and Game recently produced an identification/hunting guide for Dall sheep hunters. Dall Sheep Hunting, Full-Curl Identification Guide (2017) should be available at area ADF&G offices during the first week of August. Call or email any area office to receive a copy of the guide by mail. View the guide online on the Dall Sheep Hunting pages of the ADF&G website.
This 40 page, pocket-sized guide provides an in-depth review for ... Dall sheep guide Article Continued
---