Alaska Fish & Wildlife News

May 2017
Burning to Benefit Wildlife

By Tim Mowry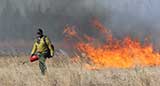 Lighted drip torch in hand, Sue Rodman tipped the head of the torch toward the ground and began walking across a corner of the Delta Junction Bison Range. A line of flame followed her as a combination of diesel fuel and gasoline dripped from the burning torch onto a mat of dead grass and willow staubs cut the previous fall.
"We've got fire on the ground," burn boss trainee Gabe Pease-Madore from the Alaska Division of Forestry announced into his radio.
And with that, ... Burning for Wildlife Article Continued
---
Dogs and Wildlife

By Riley Woodford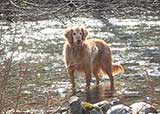 My dog Emily, a border collie mix, liked to chase seagulls at a popular dog-walking beach. It seemed pretty harmless - she never came close to catching one, and after all, they were just seagulls. (We thought of them as skyrats back then.) Emily was a great hiking companion, trained to "leave it" if instructed and "come" without hesitation (usually). She never chased deer or got quilled by a porcupine.
After she died, I hiked without a dog and I began seeing a lot ... Dogs and Wildlife Article Continued
---
Want to reach ADF&G biologists
about a wildlife encounter?
By Elizabeth Manning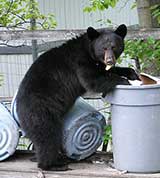 A few years ago, Alaska Department of Fish and Game biologists in the Anchorage office started noticing something odd. The number of bear calls seemed to be declining, and then sometimes the biologists would hear about a bear situation that had been posted to social media, but was never officially reported to the Department.
Bear incidents were not necessarily declining, but the calls were.
"We were hearing about some bear situations long after the fact," said ADF&G ... Reporting wildlife Article Continued
---
Wood Bison Calving Season has Begun

By Mike Taras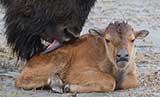 It's calving season for the Lower Innoko/Yukon Rivers wood bison herd. On Sunday April 16th, 15 newborn calves were spotted among several groups of adult bison. The calving groups were spread out from Holikachuk to Holy Cross. This is very early in the spring for so much calving, so there may be many more calves to come.
In the spring and summer of 2015, 16 calves were born in the wild to cows that had been bred the previous year while still captive. In 2016, 17 calves were born with ... Bison Calves in 2017 Article Continued
---