Alaska Fish & Wildlife News

June 2016
Caring for Your Catch
Keep Your Fish Tasting Good All Winter Long
By Mark Stopha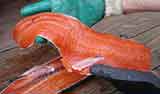 Alaskans enjoy healthy salmon stocks that provide opportunities to harvest a year-round supply of fish during personal use and subsistence fisheries in much of the state. This opportunity can mean harvesting a lot of fish in a short period of time. This may seem daunting at the outset, but caring for your catch is not difficult. It does take adequate preparation and proper handling to keep your catch edible until you can go harvest again.
If you only like salmon from your freezer that ... Caring for Your Fish Article Continued
---
Long-term Monitoring of Grouse
and Ptarmigan in Alaska
By Heather McFarland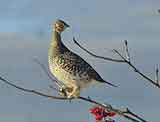 A female sharp-tailed grouse sits silently in the top of a spruce tree. She watches intently as a group of eight to 10 males performs an elaborate mating dance in the open dancing ground, or lek, below. Flashes of white from the underside of their tails attract the female's attention.
The female flies to a lower branch where she can view the details of the dance more clearly. A male leans forward, wings outspread rattling his tail feathers. Then, inflating purple air sacs along his ... Monitoring Grouse Article Continued
---
Bears of the World 2016
"It's Not Just For Scientists"
By Elizabeth Manning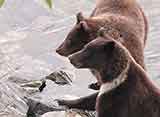 This month, hundreds of bear professionals from around the globe will gather in Anchorage to share research and discuss the conservation of bears on an international level.
Scientific conferences are important for professionals to connect and learn from each other. But this event, the 24th International Conference on Bear Research and Management, aims for greater inclusion. The organizers want members of the public to become engaged, excited and knowledgeable about bears too.
With ... Bears of the World Article Continued
---
When Science Gets Stinky
POW Students Gain Insight Into Wolf Research
By Abby Lowell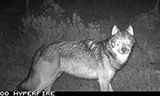 When it comes to studying wolves, things can get a little smelly.
That's just one of the lessons students and teachers are taking away from an ongoing student science project that began last fall on Prince of Wales Island (POW). There, a new Alaska Department of Fish & Game wolf monitoring project was underway and one pair of educators saw a unique opportunity.
Educators Ellen Hannan, now retired after 30 years of teaching on POW, and Cheryl Bobo, technology director for ... Wolf Research Article Continued
---