Alaska Fish & Wildlife News

April 2016
White-nose Syndrome in Bat
Shocks Researchers with Arrival in Washington
By Abby Lowell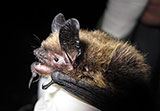 Since it was first detected on the east coast of the United States nearly a decade ago, a devastating disease — White-nose Syndrome — has been ravaging little brown bats as they hibernate in huge groups, killing tens of thousands in a single winter. In March, the disease was detected for the first time in one little brown bat on the West Coast.
For researchers in Alaska and beyond, this is not good news.
According to a news release from the Washington Department of Fish ... Sick Bats Article Continued
---
Sooty Grouse Hunting in Alaska

By Rick Merizon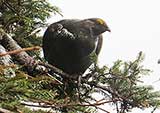 The low resinous hoot reverberated in my chest. I knew I had to be close to the hooting male sooty grouse. He was somewhere midway up an Empire State building-like Sitka spruce tree several miles and an arduous hike outside downtown Juneau. To get to this very point my hunting partner and I had to ascend nearly 1,500 vertical feet up slippery, water-soden ground covered with devils club and ankle busting brush in our Xtra-tufs. We began hearing this particular male nearly ½ mile away and ... Sooty Grouse Hunting Article Continued
---
Common Murre Update: Growing Awareness
of Sea Bird Die-off Thanks to Citizen Reporting
By Sierra Doherty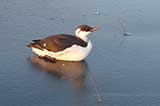 Alaska is witnessing the largest murre die-off in the state's recorded history. Thousands of common murres are dying of starvation. It is normal for murre populations to sometimes experience large-scale die-offs, known as wrecks, but the series of die-offs seen in 2015/2016 is unparalleled in the historic record, both in terms of geographic extent and time frame.
Over the last 12 months, striking numbers of dead and dying murres have been documented from Juneau and Kodiak to Glennallen ... Sea Bird Die-off Article Continued
---
Bowhunter Education in Alaska

By Ginamaria Smith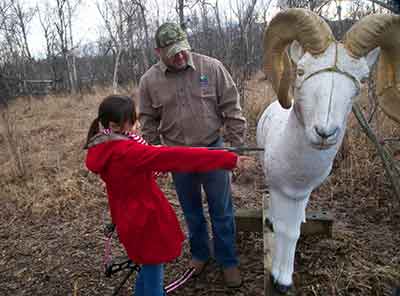 Turns out archery and bowhunting are kind of a big deal in Alaska – and America in general. But no one knew exactly how big until 2013, when the Archery Trade Association conducted its first-ever nationwide survey. Findings from that study revealed that in 2012, some 18.9 million Americans age 18 and older participated in some form of archery and/or bowhunting. And based on archery equipment sales since the survey, the number is increasing every year.
Because Alaska hunting licenses ... Bowhunter Education Article Continued
---
Beyond BOW Bounds Back to Southeast Alaska

By Abby Lowell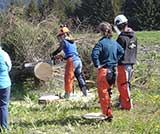 The first time a Becoming an Outdoors-Woman workshop was hosted in Southeast Alaska, it was held under water by most accounts. In the canoe class, the women who fell out of the boats were just as wet as those who never went near the water.
Cathie Harms remembers the weekend well.
"At first, we thought the workshop had flubbed," Harms said. "But in the end it gelled, and even though it poured rain, the only complaints I heard were not from the participants, but from ... Beyond BOW Article Continued
---