Alaska Fish & Wildlife News

March 2016
Alaska's "Other" Valuable Shellfish Fisheries
Red Sea Urchins, Sea Cucumbers and Geoduck Clams
By Scott Walker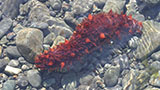 When people think of Alaska shellfish they usually think of king crab, Dungeness crab, snow crab and shrimp. Pictures of large fishing boats in the Gulf of Alaska come to mind. But there is another side of Alaska's shellfish industry, small boats with small crews that battle the stormy seas of Southeast Alaska. These hardy individuals are the divers that harvest red sea urchins, California or northern sea cucumbers and the famed geoduck clam.
I don't know how many times I ... Other Shellfish Article Continued
---
Selling Alaska Fish All Over the World
Direct Market Fishermen
By Shellene Hutter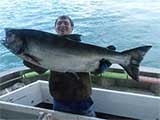 At ADF&G, fishermen often call with very interesting questions that we don't know the answer to immediately. This is not because we don't know our regulations, but because we just have never been asked the question before. Fisherman are creative inventors, often times out of necessity. It is these very traits that prove invaluable to their fishing operations.
Fishermen can harness their creativity and expand their markets by becoming what's called a Direct Marketer ... Direct Market Fish Article Continued
---
Wood Bison Bull 132
Ambassador for Bison Conservation
By Tom Seaton and Mike Taras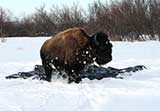 On February 23rd, things were bustling in the small village of Grayling, located on the Yukon River. Several local residents were helping Department of Fish and Game staff prepare to move bull 132 out of the village. Students waited impatiently in their classrooms as Fish and Game personnel explained to them how they were going to anesthetize and move the animal with the utmost care. Bull 132 was an animal that the students of Grayling had grown to care for over the previous three weeks; feeding ... Bison Ambassador Article Continued
---
Mystery Fish

By Scott Meyer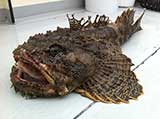 There are nearly 500 species of fish swimming around in marine waters of Alaska, including many that are rarely seen by sport, subsistence, or commercial fishermen. Some are downright uncommon or rare, some lurk in waters far offshore or deeper than most folks care to fish, and other may simply have habits that make them unlikely to get caught. On the other hand, there are a lot of fishermen out there. They are bound to catch something unusual once in a while.
Besides the uncommon resident ... Mystery Fish Article Continued
---
Mystery Fish
Part Two
By Scott Meyer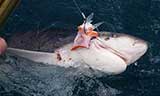 The next group of fishes normally reside much further south of Alaska, or in waters far offshore, and tend to be encountered only during years with abnormally warm waters.
In 1998, the second year of a strong El Niño, a seiner from Washington caught two Pacific barracuda Sphyraena argentea in Valdez Arm of Prince William Sound. He sold one as a pink salmon for 15 cents per pound, and the other, a 32-incher, was mounted and is hanging in the ADF&G office in Homer. Pacific ... Mystery Fish Article Continued
---