Alaska Fish & Wildlife News

January 2016
Bears on the Move
Brown Bear Dispersal and Home Ranges
By Riley Woodford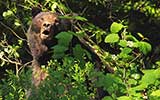 Something was up with Bear 425.
Bear researcher LaVern Beier had handled hundreds of brown bears, many from Admiralty Island and many from the Southeast Mainland. He and his colleagues caught Bear 425 in the Berners Bay area north of Juneau in June of 2007, and as Beier processed the roughly 9-year-old male and put on a GPS collar, he noted among other things, it seemed really dark for a Berners area bear.
The genetics data supported his suspicion that Bear 425 might not be from the ... Bears on the Move Article Continued
---
No One in Alaska Died
Commercial Fishing in the Past Year
By Riley Woodford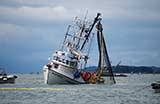 Commercial fishing has been getting safer for decades, for a lot of reasons. The U.S. Coast Guard recently announced a milestone: No one in Alaska died commercial fishing in a vessel-related incident in the past year, for the first time.
That's the federal fiscal year, Oct. 1 2014 through Sept. 30 2015. Although six commercial fishing boats sank in the summer of 2015, no one was killed. Between 1980 and 1988, an average of 31 fishermen died in Alaska each year.
Scott Wilwert ... Commercial Fishing Article Continued
---
Caribou Biologist Jim Dau Retires
After Almost Three Decades of Service
By Carmen Daggett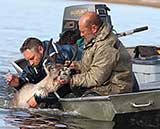 Jim Dau, a widely known and respected caribou biologist in Northwest Alaska, has decided to retire after 28 years of service with the Kotzebue Fish and Game office. His initial involvement with Game Management Unit (GMU) 23 began in the late 1970's, working with the University of Alaska-Fairbanks Reindeer Program, Larry Davis of Nome, and Bob Dieterich (then State veterinarian), and the reindeer and reindeer herders of the Seward Peninsula. He learned to ride a snow machine by accompanying ... Jim Dau Retires Article Continued
---