Alaska Fish & Wildlife News

November 2015
Southern Southeast Alaska's Wet and Wild
Shrimp Research Program
By Scott Walker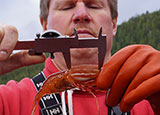 Commercial fisheries that occur in Southeast Alaska's fall and winter months are among the most weather challenged fisheries in Alaska. In Southern Southeast Alaska, October heralds two events that challenge even the most adventurous commercial fishery managers. One is the start of a string of gales that pound the islands and straits in southeast Alaska and the other is the start of the commercial pot shrimp fishery.
Rain, wind and rough ocean conditions are always a challenge for ... Shrimp Research Article Continued
---
Water Rights for Fish

By Shawn Johnson
Rivers – the Stikine, Kuskokwim, Situk, Karluk, Chatanika, Nushagak, Copper, Kenai, Chena, Kvichak, and Taku. And creeks – Montana, Cowee, Willow, Campbell, Sawmill, Deception, Clearwater, and Peterson. From short, steep creeks cascading down coastal mountains in Southeast, to long, braided rivers meandering across the boreal forests of the Interior, and everywhere in between, Alaska is a state rich in fresh, flowing water.
The lives of Alaskans have been intimately tied to ... Water Rights Article Continued
---
ARLIS – Furs, Skulls, Mounts, Kits
and so much more
By Celia Rozen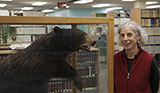 It's not often that a library is front page news and featured in a national radio program and televised for CNN, but all these events occurred during October 2015 at Alaska Resources Library and Information Services (ARLIS). ARLIS is the Anchorage-based library for Alaska Department of Fish and Game and seven other federal, state, and university agencies. The reason for all the hoopla: the wonderful collections of furs, skulls, bird mounts, fish mounts, educational kits, ... Furs, Skulls, Mounts Article Continued
---
Hunting Blacktail Deer in Southeast Alaska

By Mark Stopha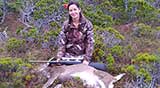 At about 100 pounds, give or take, blacktail deer are one of Alaska's smallest big game hunted for food. Unlike moose, elk or bison, deer is a critter you can get out of the woods by yourself. Dragging is an option if you take one near the beach or camp. If you are further afield, then it usually takes about an hour to skin and butcher a deer and load it in your pack. How you get your deer out of the woods depends on how strong your back is, how much daylight is left, and the distance ... Hunting Blacktails Article Continued
---