Alaska Fish & Wildlife News

June 2015
Family Fishing with the Salmon Challenge

By Dennis Musgraves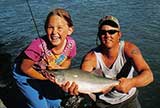 Taking my family on weekend retreats for salmon fishing during Alaska's summer time was a reoccurring outdoor event when my daughters were growing up. Countless were the trips, and so were the number of salmon we caught on those outings. Salmon fishing allowed us to travel about the 49th State, detach from life's everyday distractions, and spend quality time together.
The social impact those yesteryear fishing trips had on my family reached far beyond a means in which we brought ... Salmon Challenge Article Continued
---
How to Fish for Klutina River Red Salmon

By Nancy Sisnyak
The milky water of the Klutina River supports a substantial run of red (sockeye) salmon that is very popular with salmon anglers. A tributary of the Copper River, the Klutina River is glacially-fed, and fast-flowing, requiring a bit of skill to fish it successfully. But, no worries if you have never fished these rolling waters, because the Alaska Department of Fish and Game has just released a video, How to Fish for Klutina River Red Salmon.
Fisheries Biologist Scott Maclean ... Klutina River Reds Article Continued
---
Documenting and Protecting Salmon Streams
Anadromous Waters Atlas and Catalog
By J. Johnson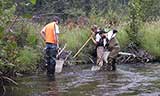 Before Alaska became a state, territorial laws were in place to protect anadromous fish streams. Anadromous fish are born in freshwater, migrate to saltwater to live most of their lives, then return to freshwater to spawn. These include salmon, trout, char, whitefish, lamprey and smelt.
With statehood, various territorial provisions were replaced with state statutes that broadened the protection afforded anadromous species in state waters. Subsequent legislation passed in 1966 led to a ... Salmon Streams Article Continued
---
"How can I get a job like that?"
Internships in Wildlife Education & Outreach
By Brenda Duty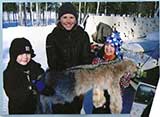 "How can I get a job like that?"
I hear this several times a year as I connect with students across the state. The better-known internships for Fish and Game include fish counters or gear wranglers for the field season. What's often overlooked are the opportunities involved in communicating with the public. The Wildlife Education & Outreach Program engages Alaskans in a variety of ways, and interns with the program come away with valuable experience.
Our outreach ... Internships Article Continued
---
Managing the Western Arctic Caribou Herd:
Negotiating the Regulatory Process
By Jim Dau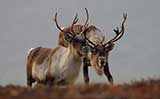 Times have changed for the Western Arctic Caribou Herd (WAH). The herd is half of what it numbered a decade ago, and the Department of Fish and Game has been working with Alaskans to address the decline.
At its peak in 2003 the herd numbered 490,000 animals. The last census conducted by ADF&G in 2013 estimated less than half that number, about 235,000 caribou. Between 2003 and 2011, the herd declined at an annual average rate of three to six percent. The annual rate of decline steepened ... Caribou Article Continued
---
ADF&G's Steller Sea Lion Research Program
Reducing entanglement in Marine Debris
By Sue Goodglick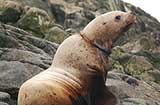 A Steller sea lion encountering trash in the ocean may be enticed to investigate, but minutes of play may lead to a lifetime of hardship, or worse. A loop is especially bad and can become a permanent noose resulting in lacerations, infection, strangulation, or drowning.
Worldwide records indicate over 200 marine species have become entangled or have ingested marine debris including 26 marine mammal species. Entanglements in Alaska are likely undercounted due to short field research seasons ... entangled sea lions Article Continued
---