Alaska Fish & Wildlife News

February 2015
A Wealth of Shells

By Scott Walker
Everyone has at one time or another picked up a seashell and admired its beauty and design. Some will toss it back on the beach and others put it in their pocket to take home. These shells end up in boxes or on the living room mantle for display. For some the fascination with shells turns into a lifelong hobby. For me it turned into a never ending research project that meshed perfectly with a job as a Commercial Fisheries Biologist for the State of Alaska.
Collecting shells begin for me ... A Wealth of Shells Article Continued
---
CamSledding in Alaska:
A Better View of Scallop Habitat
By Gregg Rosenkranz and Amy Carroll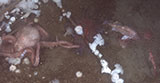 CamSled is the Alaska Department of Fish and Game's portable, towed, noninvasive underwater optical imaging system. It is the culmination of years of work by biometrician Gregg Rosenkranz and analyst/programmer Ric Shepard, who set out to use video for direct observation of weathervane scallops Patinopecten caurinus and their habitat. No affordable commercially available products met their needs, so they built the system themselves—a pioneering effort of doing more with less.
With ... Camsledding Article Continued
---
Ice Fishing Stocked Lakes
in Anchorage and Beyond
By Ryan Ragan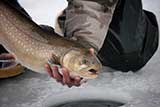 Shortly before sunset I fire up my gas-powered ice auger and hold the throttle wide open as the sharp blades chew through a thick layer of ice. A stiff January breeze blows across the lake. It is two degrees below zero. We are preparing to fish a lake that I've never been to before. My kids run around on the ice, exploring the wide-open white plane, occasionally dropping their bodies down to carve out figures in the snow. I know with the wind-chill and it getting late in the day, this play ... Ice Fishing Article Continued
---
Wood Bison Management Plan
Available for Review
By Cathie Harms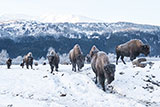 A draft management plan for wood bison in the Lower Innoko/Yukon River area is available for public review, and comments will be accepted through February 28, 2015.
The draft plan is available on the Alaska Department of Fish and Game website.
The plan will be presented to the Federal Subsistence Board in January and to the Alaska Board of Game in February for review and approval. Public comments are appreciated and will be considered in future revisions and refinements of the plan.
The ... Wood Bison Plan Article Continued
---