Alaska Fish & Wildlife News

October 2014
Malaspina Bears

By Riley Woodford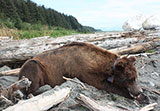 In the remote country west of Yakutat, coastal brown bears are fighting, foraging and exploring a landscape that's still emerging from the ice age. Wildlife biologist Anthony Crupi and fellow ADF&G researcher Lavern Beier have captured 18 brown bears and equipped them with GPS radiocollars, providing researchers with insights into the bears' movements, resource needs, reproduction and seasonal behaviors.
Alaska's border with the Yukon Territory runs 700-miles north ... Malaspina Bears Article Continued
---
Good News for the Farewell Bison

By Riley Woodford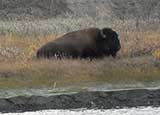 When wildlife biologist Roger Seavoy flew an hour south of McGrath this spring to survey bison, he found more than he'd seen in years – more than 400 animals. That's good news for a herd that declined considerably a decade ago.
The Farewell herd is one of four herds of plains bison in Alaska. The herd inhabits the Farewell area of the drainages flowing into the Kuskokwim River, about 200 miles due west of Anchorage. Plains bison are an exotic species – they were ... Farewell Bison Article Continued
---
A Wing and a Tail for Science

By Riley Woodford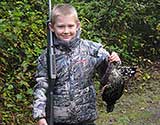 Max Merizon ate the first grouse he shot, but he dedicated the wing and tail to science.
Biologists with ADF&G's small game program are asking hunters to send in a wing and the tail from each grouse or ptarmigan they harvest. In the 2013 regulatory year, 1,200 samples were submitted, and so far submissions this year are on track to exceed that.
Max's dad, Rick Merizon, is a wildlife biologist studying grouse and ptarmigan in Alaska. He helps manage small game and explained ... Grouse wings Article Continued
---