Alaska Fish & Wildlife News

September 2014
Hunting and Gathering in the Savoring Season
Autumn Lends Colorful Insight to the Last Frontier
By Ken Marsh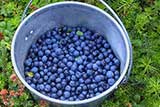 I
"Autumn is the mellower season, and what we lose in flowers we more than gain in fruits."
– Samuel Butler
As early as the first week of August the wild raspberries are already perfectly ripe in Southcentral Alaska. Locals find them hanging in red and purple clusters from stalks that bristle with fine, hair-like spines. They sweeten the air with a fragrance reminiscent of the hot pies we'll pull later from the oven.
Acres of raspberry ... The Savoring Season Article Continued
---
Immobilizing Moose and Caribou: Fulbright Scholar
Tests Better Drugs For Capturing Wildlife
By Riley Woodford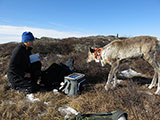 Handling wild animals is an important part of wildlife biology. It's a scene that occurs every spring and summer in Alaska: biologists huddled over a sedated caribou, mountain goat or moose, taking samples and measurements, putting on a radiocollar, all the while monitoring the condition of the animal.
Wildlife veterinarian Marianne Lian is researching ways to make that process safer for animals and biologists, and spent most of the past year in Alaska focusing on a new drug combination ... Better Drugs Article Continued
---
Parasite Reminds Hunters
Bear Meat Must Be Thoroughly Cooked
By Riley Woodford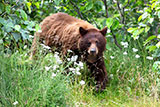 A party of successful out-of-state hunters left Alaska earlier this year with bear meat - and a load of parasites.
The incident is a good reminder that the trichinellosis roundworm is widespread in bears and meat needs to be thoroughly cooked, said Dr. Louisa Castrodale, an epidemiologist and veterinarian with the Alaska Department of Health. She said the group of friends became sick after they returned home.
"They all came up to hunt, from four different states, and after they ... Trichinosis Article Continued
---
Outdoor Youth Days

By Joe Rutz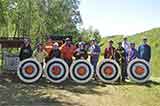 Despite what many people in the Lower 48 believe, being outdoorsy doesn't just run naturally through Alaskan blood. An honest appreciation for the miles of untamed wilderness spreading out across our state is something that has to be taught and cultivated by fellow sportsmen. Alaska's legacy of outdoor recreation is the cornerstone of life and culture here in the Last Frontier. That is why the Alaska Department of Fish & Game, in conjunction with the Outdoor Heritage Foundation ... Outdoor Youth Days Article Continued
---
Photo Submissions

By Riley Woodford
At Fish and Game, we really appreciate receiving photos from the public. Most often, these are from hunters and anglers, but wildlife viewers have provided beautiful images of bears, Dall's sheep and other wildlife as well. Hunters know that we use reader-submitted photos in the hunting regulations, and often provide "trophy" shots. Quite often these are proud parents submitting photos of successful young hunters.
We also need pictures that depict the other aspects of ... Photo submissions Article Continued
---
Even When it's Bad it's Good at McNeil
Bear Viewing When it's Slow
By Patti Harper
McNeil River falls roared just out of sight as we trudged closer, trying not to stumble on the slippery, muddy trail. Photographs we had seen of dozens of large brown bears fishing in this famous spot floated in our imaginations. Then we were there. Scenic whitewater cascaded over boulders and down the river. But, there were no bears. Not a single one.
Samantha McNearny (Sam), our guide, had warned us. Bears at the falls are after salmon and we happened to be there, in mid-August, between ... McNeil Bears Article Continued
---